It's a blue stable blanket with white embroidery. His name is featured, along with those of his parents. His daddy's record times in all three Triple Crown races are featured, and it says, "My dad is FASTER than yours!"
The blanket is a very special present for Fast Market, an elderly son of Secretariat, who celebrated his 32nd birthday on Sunday, February 4. It has been a year since his story was first published on this site, and in that year his popularity has exploded, according to Bev Dee, who runs Bright Futures Farm, an equine rescue and sanctuary in Cochranton, Pennsylvania, where 'Markie' has lived since 2004.
He has always been something of a celebrity, dating back to his years at Fort Erie, Ontario, near Niagara Falls, where in 1992 he was voted the track's Horse of the Year, best male and top grass runner. Ten of his 18 starts that year were at the picturesque track, including a two-month summer stretch where he won five of six races. One of those wins was in the Puss n Boots, the lone stakes win of a long racing career that saw him race 144 times in ten years, the most starts of any of Secretariat's offspring
It was a year earlier that Fast Market was in the hands of co-owners Mark McRae and Harry Jones. McRae only recently discovered that Markie was still alive. "It was with great surprise and pleasure to see Markie on the Living Legends calendar and to learn that he has had a very loving home all these years and is even a little bit of a celebrity," he said.
"I spent a glorious summer with Markie in 1991, winning seven races with him, although he was disqualified in one."
McRae and Jones had the gelding from May to November 1991, racing him for 15 of his 18 starts that year – a typical campaign for Markie. In one of those starts, he won by 11½ lengths in a time that was the fastest 8½ furlongs at Fort Erie in three or four years, according to a local news report at the time. And he never wore leg wraps. "When we had him, he was very sound and loved being a racehorse. He was as honest a horse as there ever was, winning sprinting, going long, on the turf, in the mud and on fast tracks."
Markie was a tough customer in those younger days, though, known to toss a jockey or two. But McRae chalked that up to his eagerness to run. "He was tough and [a bit] mean but I don't mean that in a bad way. He was very determined and on race days he was quite the handful to bring to the paddock, rearing and striking the whole way. But I was always very proud of him, walking with him from the backstretch to the paddock to race – he was all racehorse."
That racehorse always had a voracious appetite, McRae recalled, with a simple diet of hay, oats and water. "We fed him triple-cleaned oats, with a little bit of sweet feed mixed in, not like the feed they use today." And, because his owners had only two horses at the time, Markie was spoiled with long hours of grazing after training hours.
"It was a true blessing waking up every morning, watching him train, mucking his stall, walking and grazing him," said McRae. "He really didn't like to be groomed so we left him alone when we put him back in his stall, fresh with foot-deep peat moss, and just watched him roll and cover himself."
Nothing like a good roll
Rolling is one thing that has stuck with Fast Market after all these years. Even at 32, he still rolls every day – only frozen ground keeps him from doing so outside (but he's been seen rolling in his stall to compensate). "He knows how to take care of himself," said Dee, explaining that the old guy knows exactly where to position his legs in order to safely heave himself up. "Being smart is what has helped keep him so healthy. He doesn't push himself any farther than he knows he should."
And, knock on wood, he is healthy, and Dee strives to keep him that way. He has biannual wellness and dental exams (he still has most of his molars) to keep on top of any issues before they become problems.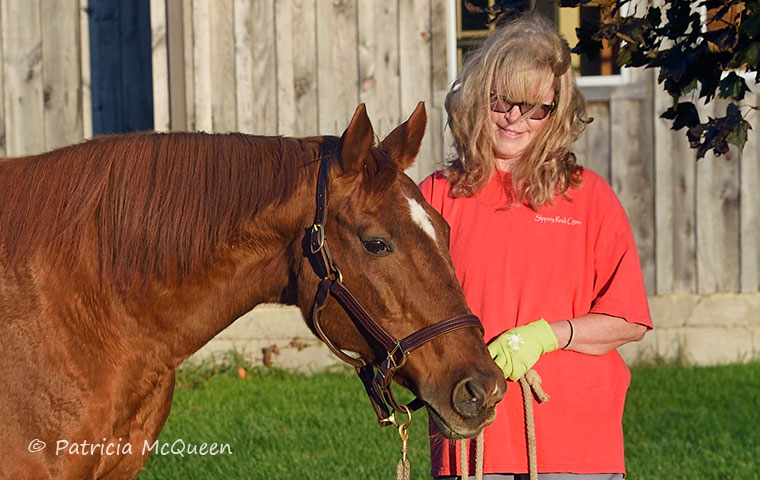 Markie starts his winter day with breakfast – and his grains must be separated in his bowl or he won't eat them. "He's like the kid growing up who couldn't let the peas touch the potatoes on his plate."
He gets a quart and a half of Purina Equine Senior and a quart of Triple Crown Steamed, Crimped Oats. They are always topped with a treat, whatever is on hand – maybe three Mrs Pastures cookies, a handful of peppermints, or carrots. "He's a slow eater, always has been," said Dee. "Everyone stays in for two hours once breakfast is served to give Markie, and one of his barn mates, Frickie, time to finish without feeling rushed."
Then it's out for that regular roll in the sandbox (or snow, as the case may be) and on to the 'field of greens' – the big pasture where Markie will dig through the snow if he has to in order to find the good grass.
Kind soul
The years have mellowed him, or maybe it's knowing his racing career is long over so he has nothing to get worked up about. But he still has the striking Secretariat-like appearance that earned him the nickname 'Little Red' while in McRae's barn.
"He's a beautiful horse to look at, and he's a beautiful horse on the inside," marveled Dee. "It takes very little to make him happy – grass, carrots, sand and being rubbed in just the right place. He's got the gentlest, kindest soul. And he has a zest for life and an uncomplicated lifestyle that helps keep him young."
He's had his own Facebook page since March 2015, and with all the attention in the past year he now has a Shopify store, with photos and other items bearing his image – all in the name of raising funds for his care and the care of 12 other Bright Futures residents, ranging in age from 16 to 33+.

And of course he's one of the stars of a 2018 calendar! (The calendars are available for $25 each through the Bright Futures website. Click here for details.)
Visitors from two countries and a dozen states have come by to admire Markie. He gets mail, cards and treats from his fans, and several new care packages arrived in time for his birthday.
"He is his father's son," said Dee, trying to explain some of his popularity. "He has a strong resemblance to Secretariat, and loves attention, peppermints and life savers."
Oh, and he knows when he's being photographed. "He'll give you that 'look of eagles' when he feels like it," she said. "And we're happy to share him with his father's fans."
FAST MARKET'S FACEBOOK PAGE!
Keep up on this stunning gentleman here on FB!
HORSE AND MAN is a blog in growth... if you like this, please pass it around!