As you all know, I have been bemoaning all the wonderful conveniences that I left behind in Grass Valley…  a big one being – hot water near the horses…
I cannot mix hot mashes or melt pills or wash anyone… or get hot soapy water.  All that stuff that I took for granted.
But LOOK what I found!!!  I think this is an incredible product!  Eccotemp Portable Tankless Water Heater
I can put this on a dolly (or Hubby can do that for me) and I can keep it set up and roll it around to any washing station I need. Or, put it near the feeding station… so many options. I just love this! Saves my day!
PORTABLE, TANKLESS WATER HEATER!  (NO AFFILIATION)
Isn't this a great idea?!  Oh My Gosh I am so excited to have mine!  It works on a propane tank, which we always have around here anyway… and most people have these when camping or showing.
Finally, I can have hot water outside – anywhere!
Here is the website.  They are on sale right now!  I see that they were $219 and now they are $179!  Even though the company is in Canada, they have a way of shipping very cost effectively to the US – it wasn't expensive at all.
THE REVIEW THAT SOLD ME ON IT…
I found this review and it sold me on the product.  They even have a video!
EccoTemp L5 – A portable, tankless propane hot water heater
How do you stay clean on your outdoor adventures? I'm sure all of us have that moment when we "could really use a hot shower" to clean off – whether that's at the campsite, on the road, at the cabin, or even in the yard after a day of hard and dirty work. For those times, and many others, you should consider the EccoTemp L5.
The EccoTemp L5 is a tankless hot water heater that runs off propane, 2 "D" batteries and running water from a hose (it can even run off a 12v pump!). Being tankless it offers instant hot water – up to 18 hours of it on a standard propane tank for any time you need to get clean. We were sent this portable shower to review by OutdoorTankless.ca and are glad we said yes. Let's take a look at the features and then talk about what we think.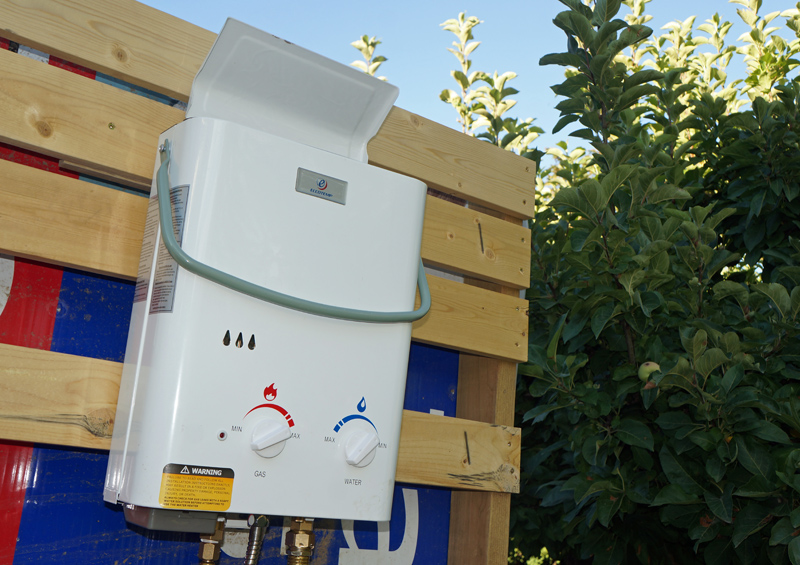 Features
37 500 BTU
up to 1.4 gallons of hot water per minute
Minimum flow of 0.4 gallons/minute
30 to 35 °F rise at 1.4 gallons per minute (more with a lower flow)
Electric Ignition (run by 2 "D" cell batteries (sold separately))
Adjustable temperature from 80 to 120 degrees Fahrenheit
1/2? NPT water fittings plumb easily into standard American fittings
Adapter attaches to any standard garden house.
Shower nozzle with on and off switch
Heat deflector
Equipped with a carry handle for easy transportation
Includes hose and regulator for attaching to standard LP tank
Works for about 18 hours on an average barbecue 20-pound propane tank
20 minute auto safety shut off timer (in case you forget to turn it off)
Weight: 12 lbs
Dimensions: 14.5? tall (18? with rain cap) X 11.5? wide X 4.5? deep
$179.99 CAD at OutdoorTankless.ca (Ships to Canada and the USA)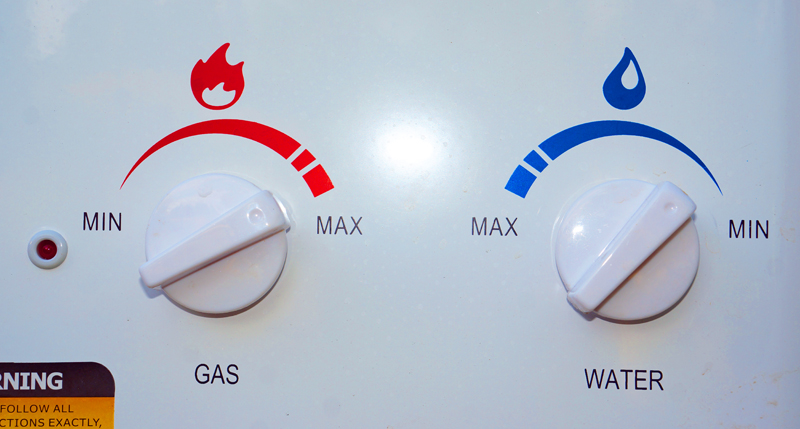 What it's good for:
The Eccotemp L5 is designed to provide portable and instant hot water, meaning it's ideal for:
Cabins
Travel trailers
Camping
outdoor showering at home
cleaning pets
cleaning vehicles
anywhere else that you need a quick and portable hot water source
It's designed to hang off a nail or screw and connects to a standard hose. It even comes with a handle that makes it easy to carry.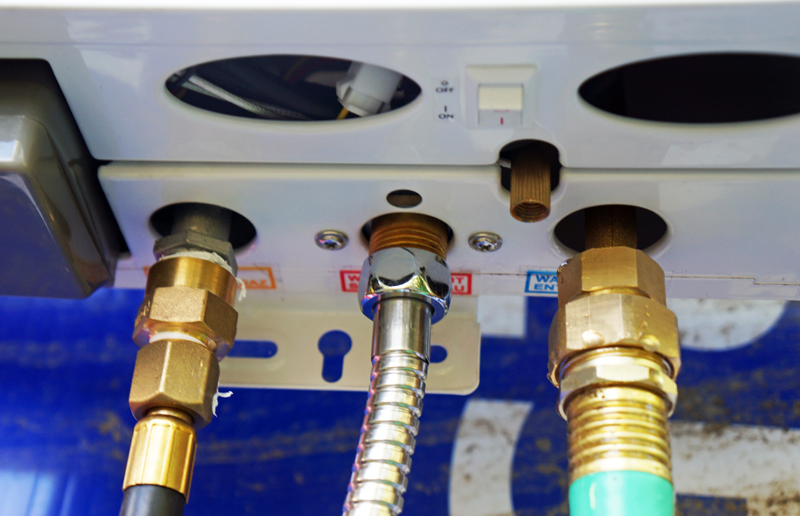 What do we think?
We were impressed at the ease of setup and how well it worked. One of the benefits/side effects/downsides of having a farm is that the kids get filthy playing in the dirt. We're fine with that, but it means that they either tramp dirt into the bathroom or face the cold water of the outdoor hose. Thanks to this tankless setup the kids can clean off outside comfortably, leaving the bathrooms (and the path to them) clean and mud free.
The two valves that control water flow and temperature make it easy to set the temperature you want. When set to the lowest flow and hottest temperature it is at times too hot – and still has enough flow to shower comfortably in. At full flow you'll still get comfortably warm water as well.
Eccotemp designed this shower to not need a pilot light. There's no open flame when the shower is not in use. When you flip the switch and turn on the shower head, the water pressure turns on the gas flow and the igniter. You'll hear the tick tick tick woosh of the propane running and will almost immediately feel the heat. The igniter keeps running until the flame ignites – a great (and safe) system that is common on all tankless systems that you'll see today.
We lived in South America for a few years and pretty much all hot water is supplied by tankless systems due to its efficiency and economy. Why heat water that you don't need? This L5 model purportedly will give you 18 hours of hot showers based on a single 20 lb propane tank. That'll last you an entire summer.
This would make a great off-the-grid setup for your cabin too!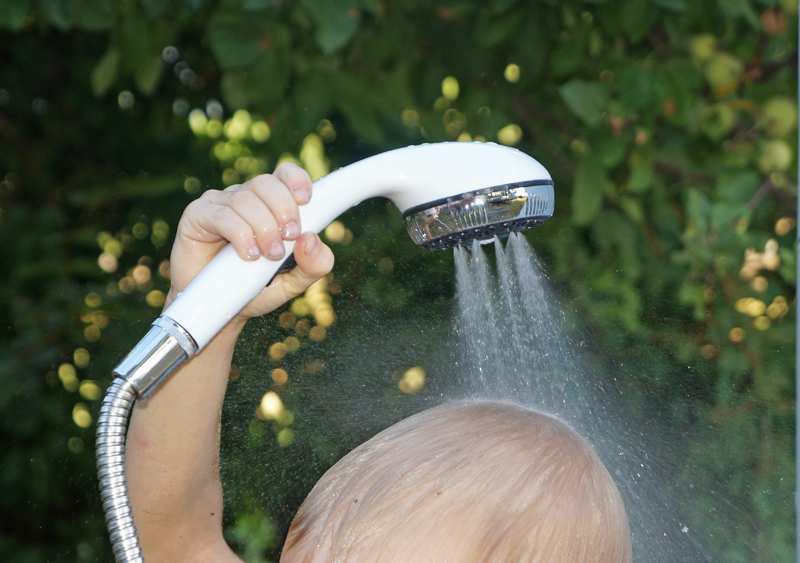 Conclusion
Not everyone's idea of an outdoor shower is a crisp mountain waterfall. For those of us that need a portable source of hot water, check out the Eccotemp L5 at outdoortankless.ca. We're looking forward to taking it camping this summer – the kids already love it and I know a few friends who might just be coaxed into the great outdoors with the promise of a hot shower at the end of the day.
What do you think of this setup? Could you make use of one of these at home or on the road? Let us know in the comments below.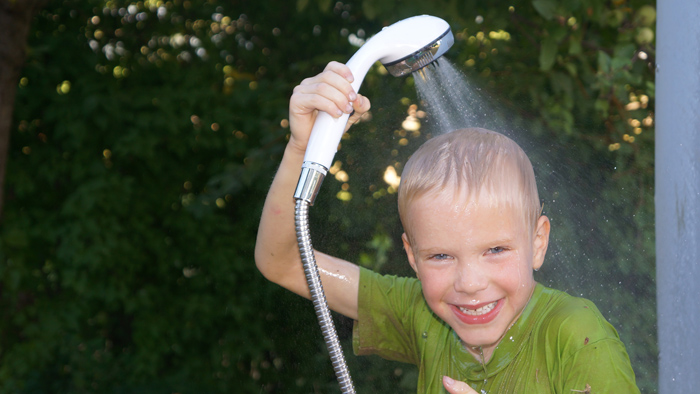 Tags cabin propane shower shower tankless water heater
AUGUST BUCKET FUND:  In memory of Hardy who didn't make it and to support little foals like Milan who did… (wild horses in distress, rescued off of the range).  The LRTC Large Animal Emergency Rescue Team needs another, very helpful, piece of equipment.  It is an A-Frame which rights downed horses.  They need $2200 and right now, we have $400.
Please help if you can… this type of equipment upgrade will save many lives – faster.
All donations are 100% tax deductible!  Thank you in advance.
HORSE AND MAN is a blog in growth... if you like this, please pass it around!