Please read this dramatic and heart wrenching story – and then pass it on to all of your horsey friends.
The plight of the American Mustang is dear to my heart.  Living in CA, I have attended helicopter and truck roundups in Oregon and Nevada.  Horrible.   I couldn't stop crying.
The BLM holding facilities are like prisons.  Small, over crowded metal pens – often times with no shelter from the wind, rain and snow.
No one will ever convince me that the Mustangs are starving (without humans putting fences where they shouldn't) and no one can convince me that there are too many.  Try and find them… (other than Nevada where they are lured to food and water troughs in order to trap them.)  You will hear that the mustangs are all over cattle land – .  But the land doesn't belong to the cattle.  The mustangs have lands devoted to them, owned by the BLM who leases it to the cattle.
The situation is complicated and in the end, only the Mustang loses.  Soon, the only mustangs you will find will be in BLM holding facilities.
Ask any cattleman how they feel about the wild horse.  Most will tell you that the mustangs are a nuisance animal.  Do you know how strong the cattle lobby is in Washington?  Well, it will take all of us to help the mustang.  All of us.
And there you have it.
Here is a beautiful story written by Voices of the Herd, linked here.
On day two of the Cedar Mountain Herd roundup, I witnessed something that has stuck with and disturbed me ever since.
We heard the rumbling of the helicopter as it pushed a new band of wild horses into sight, around the hillside, and across the valley towards the trap. They were running hard and covering miles and miles of land quite quickly. There was a paint bringing up the rear lagging a little; some of us thought that maybe it was the band's stallion looking to protect the herd from behind.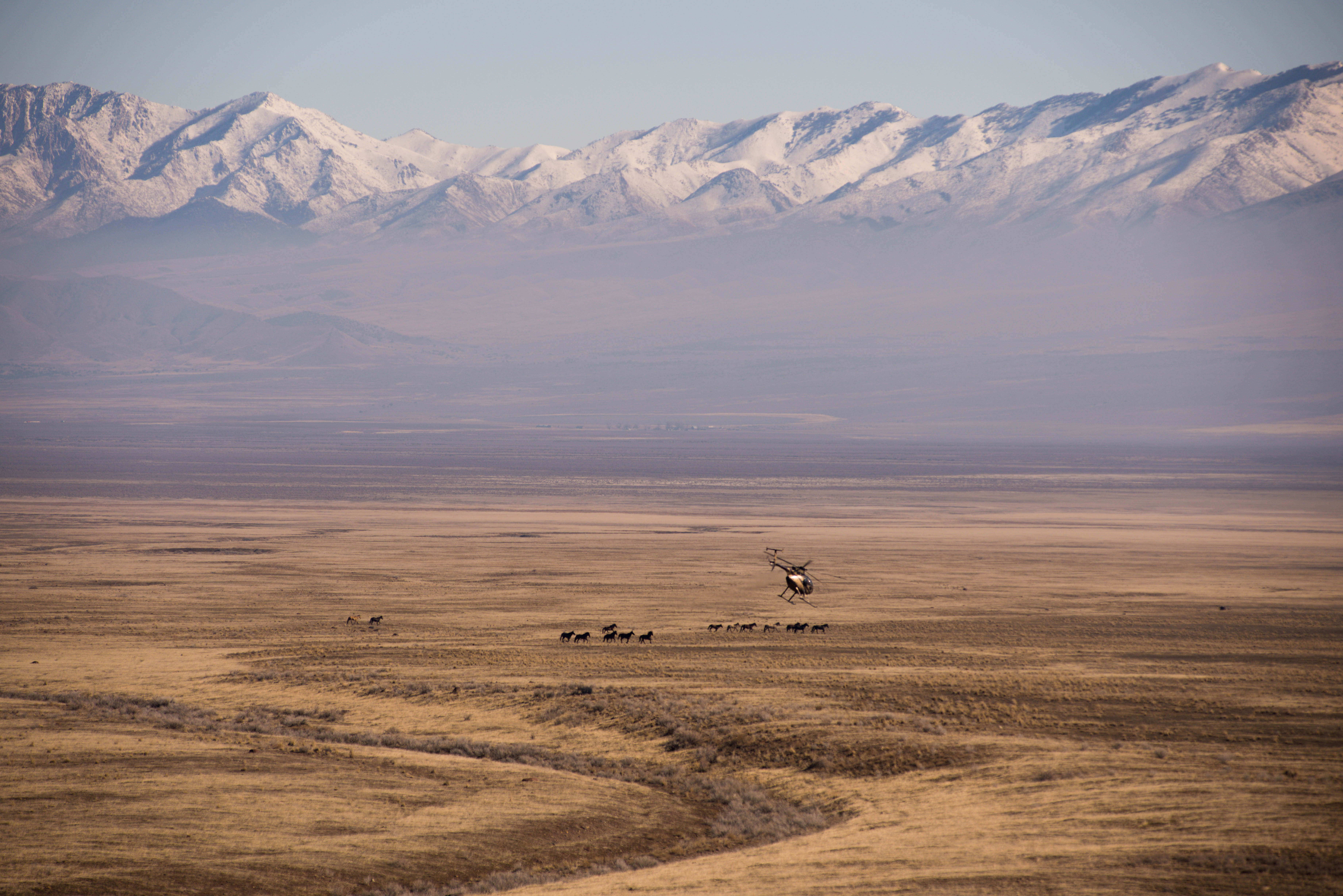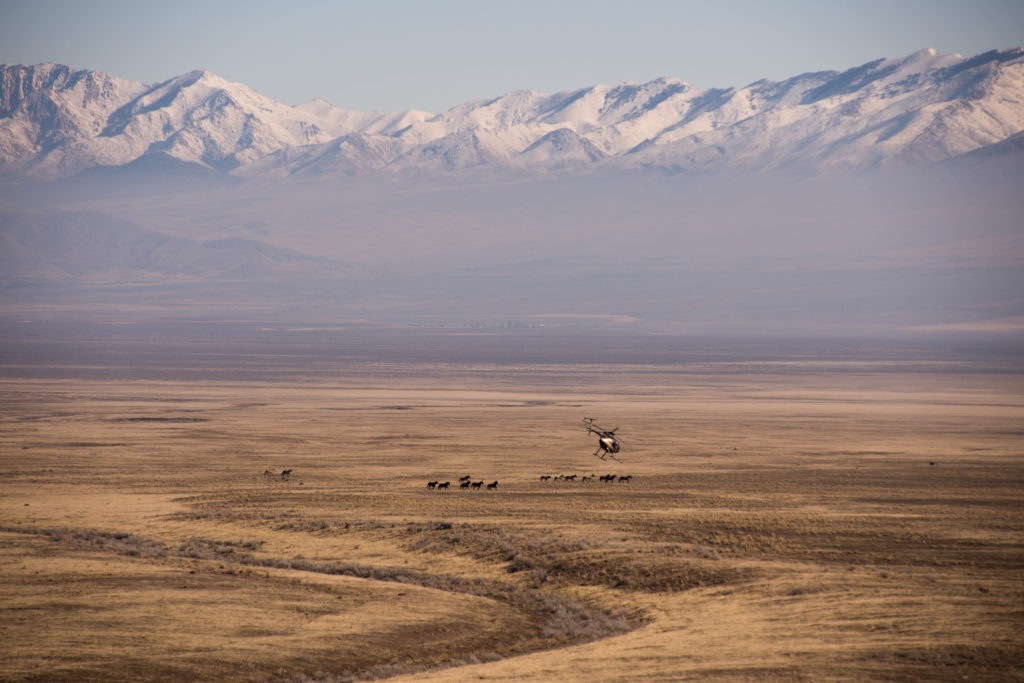 The helicopter rounded the herd into the V, and they hooked onto the Judas horse, following him right into the trap, capturing them all… except for one. The paint horse avoided the trap and took off the opposite direction across the valley. It seemed that the BLM contractors usually let single stragglers go if they took off from the herd alone, but for some odd reason, the helicopter zoomed after this single horse in hot pursuit. The helicopter was right on her tail – alone now, severed from her herd and family, she galloped for her life as fast as she could. The iron predator didn't let up, and he ran her for miles across the valley. Finally he confined her in a little ravine, but no matter how he pushed and pressured her, she seemed to refuse to back down or run back towards the trap.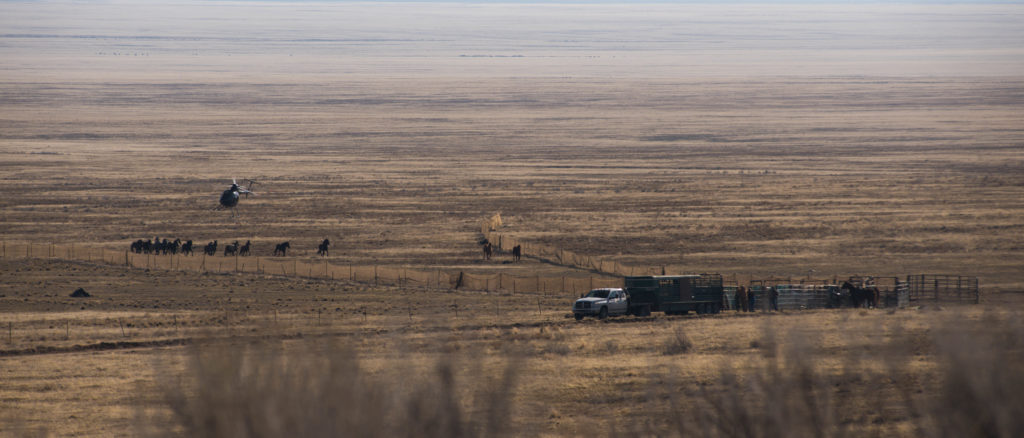 We saw a wrangler take off on a horse, galloping towards the gorge where the helicopter was low, holding the mare. He had a lasso in his hand. When he reached the ravine, the strong paint mare took off towards the fence line where all of our cars were parked. He was right on her tail, attempting to lasso her maybe 4 or 5 times with no luck. She kept running as fast as she could. The wrangler and helicopter chased her down the barbed wire fence line. We watched in silence – I couldn't believe how hard they were trying to capture this single horse. I cannot even imagine the terror and exhaustion she must have felt having lost her herd and being relentlessly chased like this.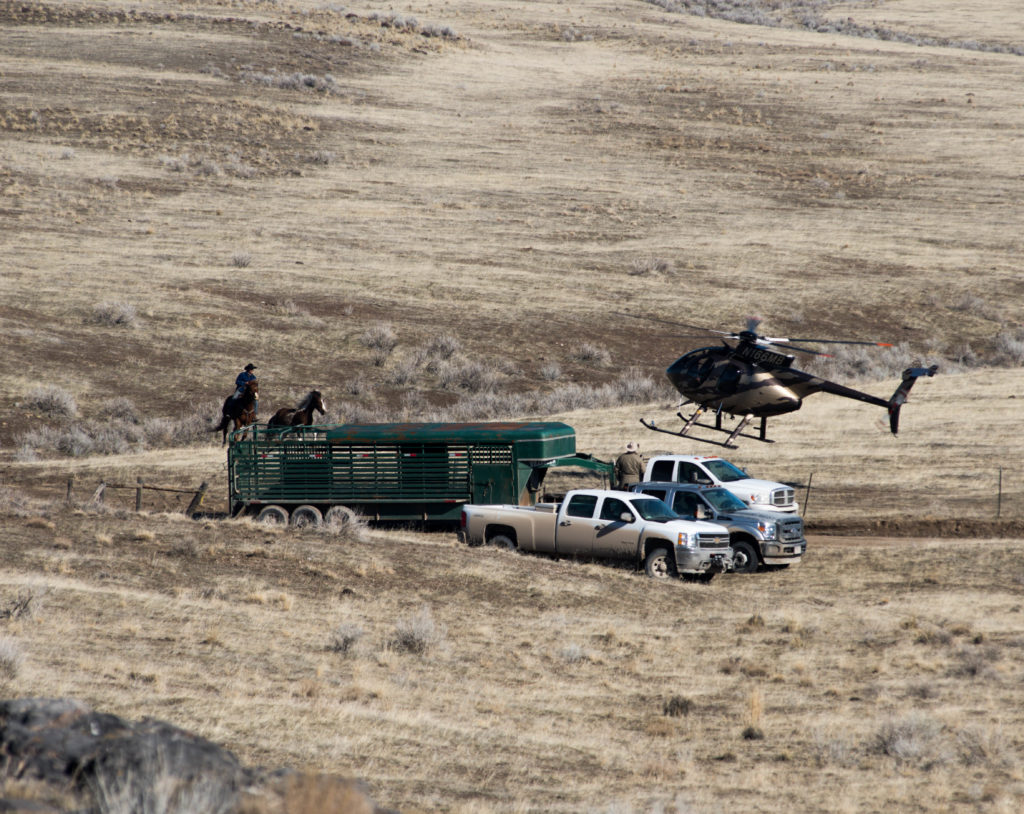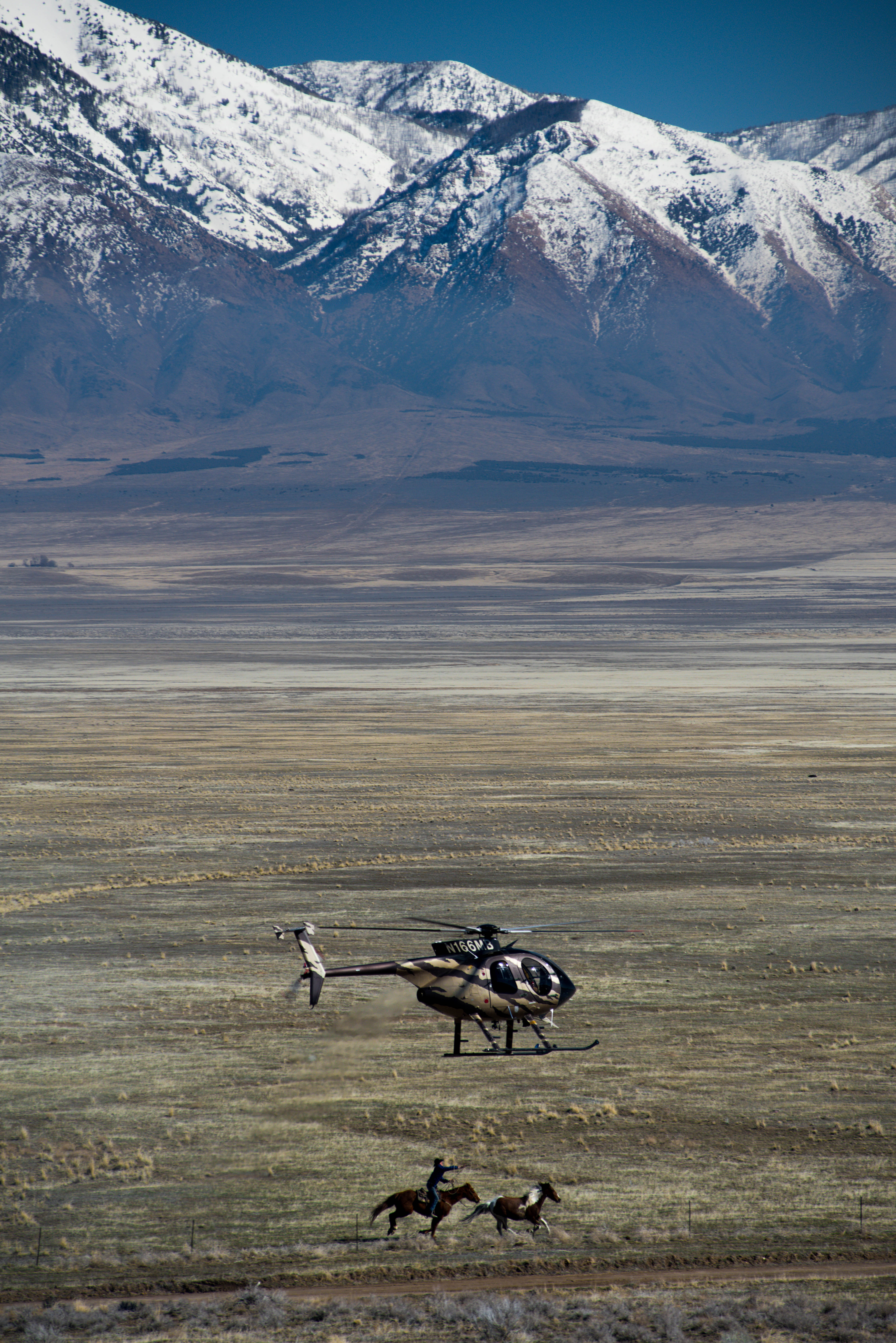 There seemed to be no escape. She was running from a flying beast that was impossibly fast and never seemed to tire, meanwhile having ropes thrown at her neck by a rider right on her tail. With one last throw, the rider lassoed the paint mare and pulled tight as it caught around her neck. She crashed head first through the barbed wire fencing to the ground.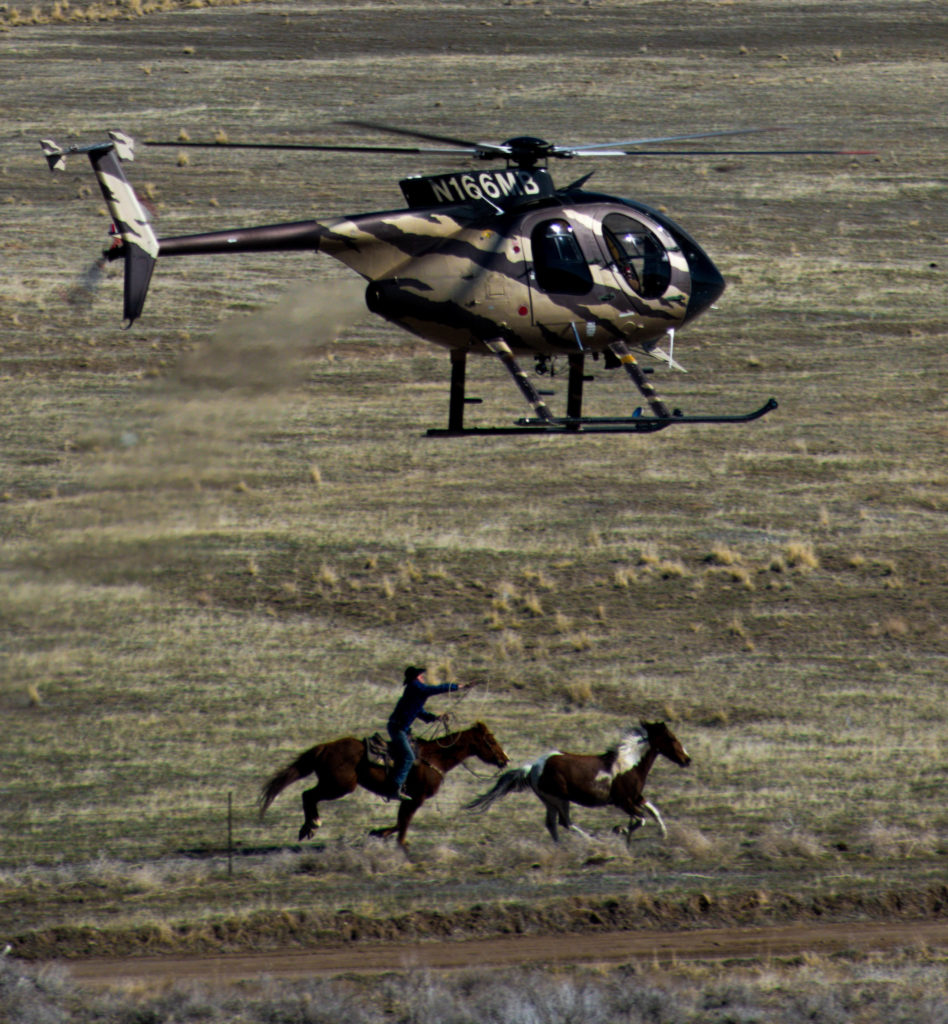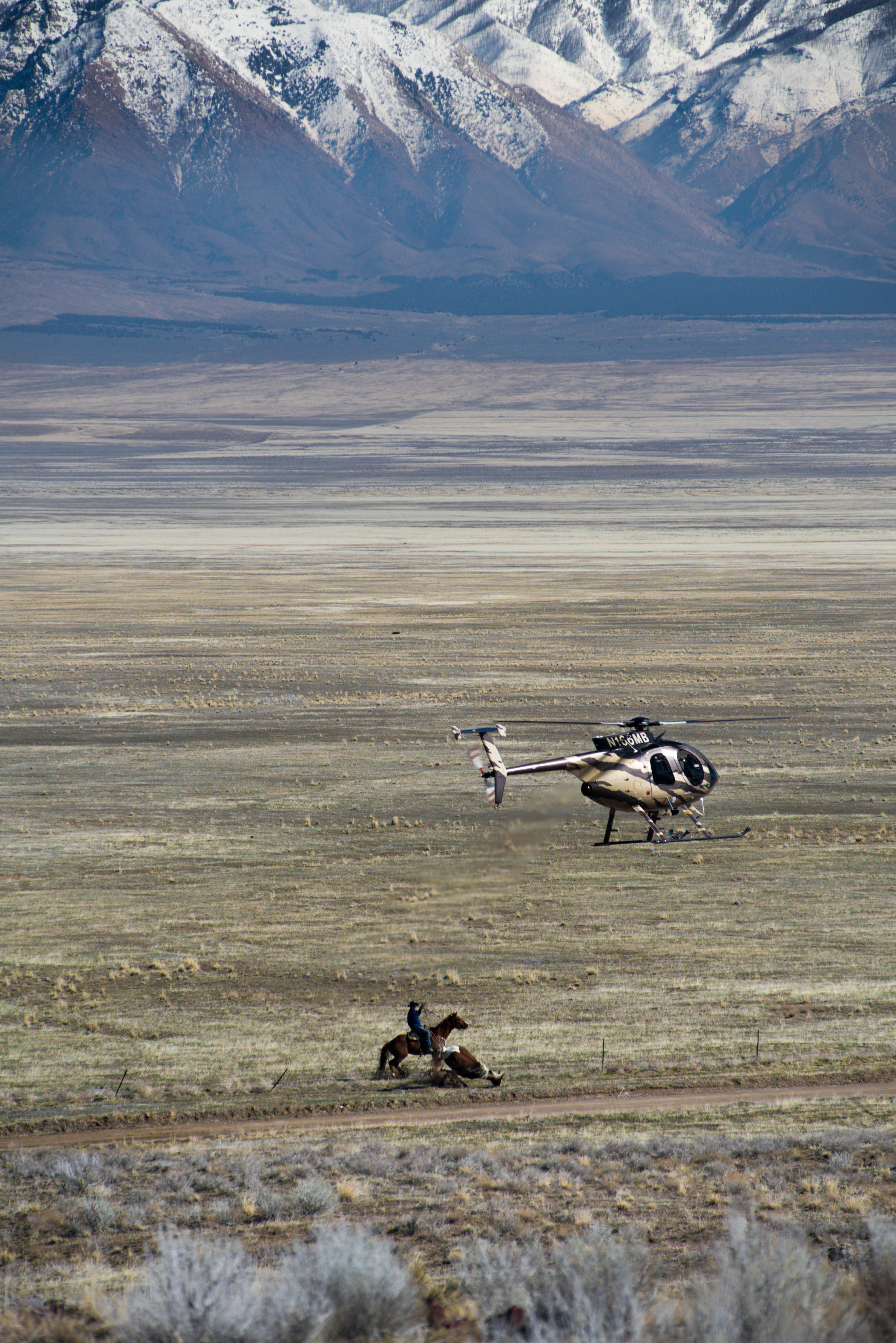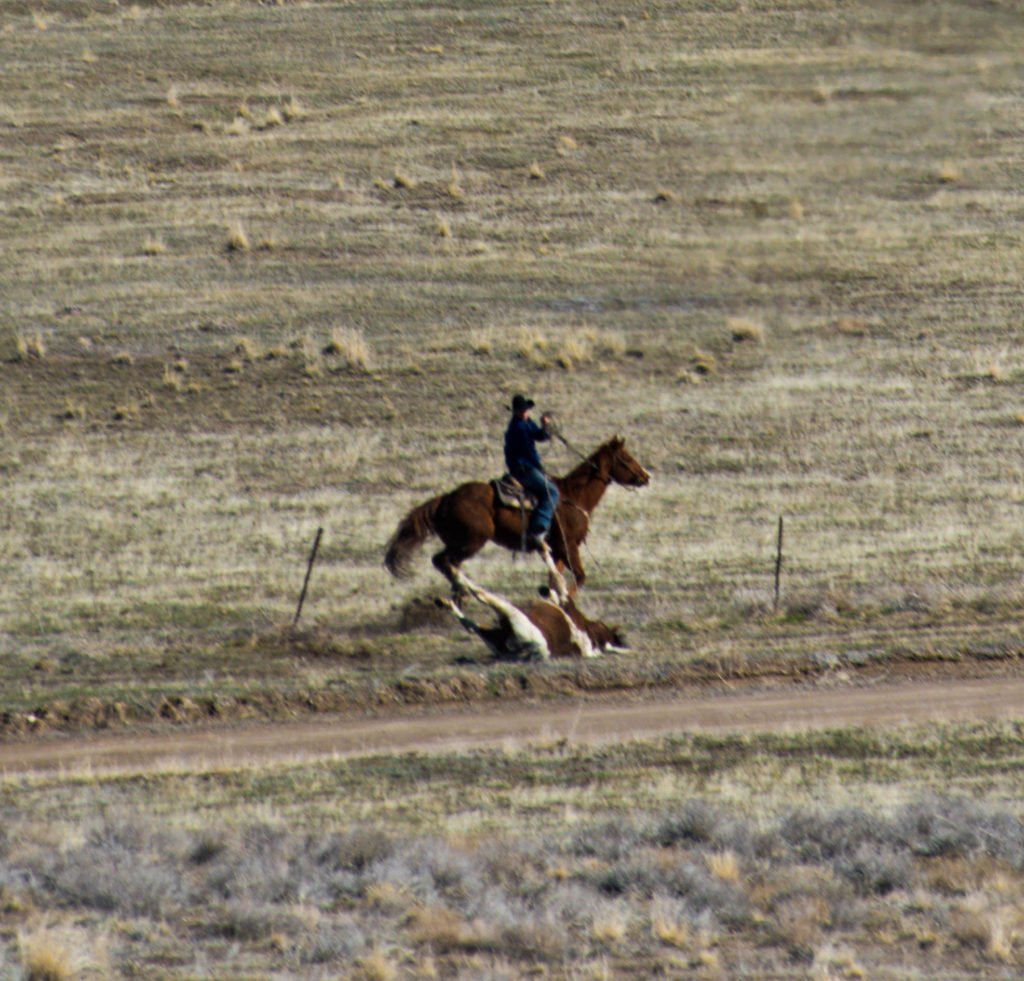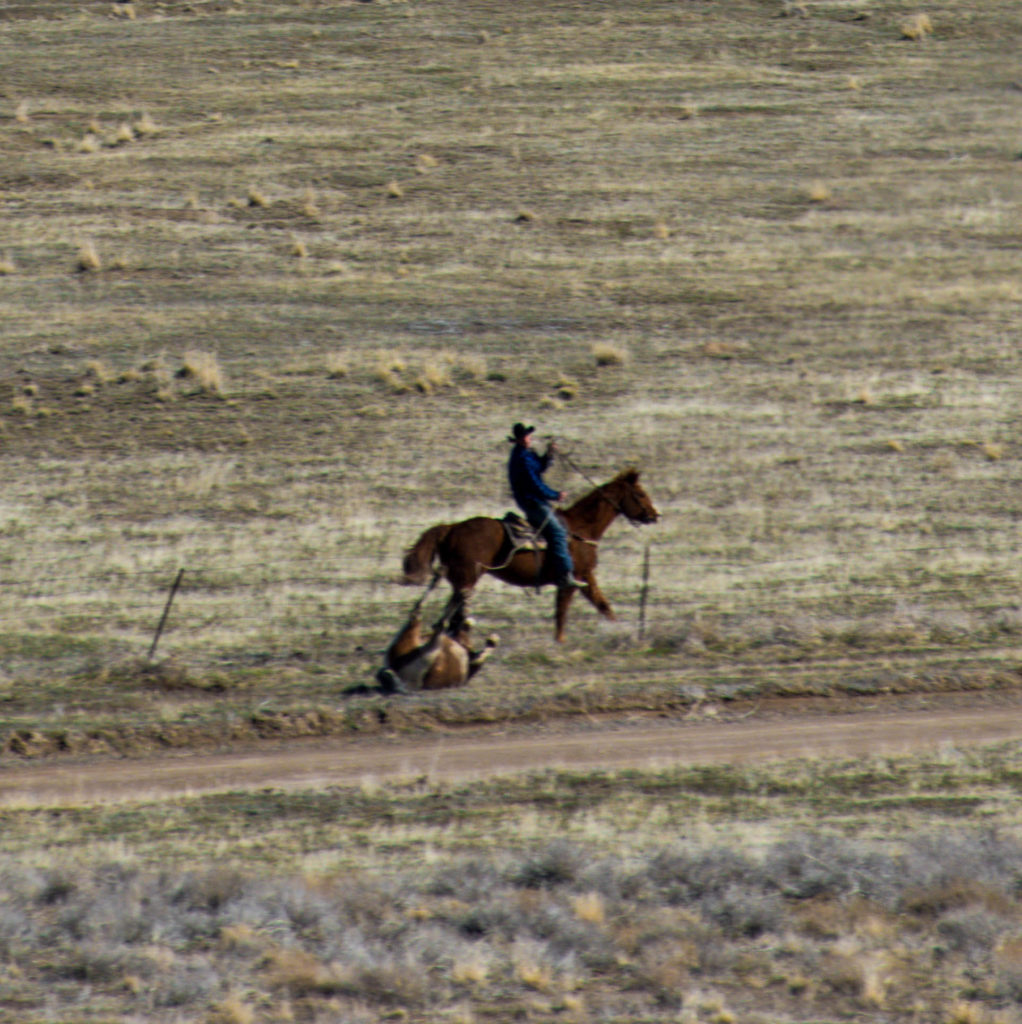 She had so much momentum and fell mid gallop; her body collided so hard with the ground.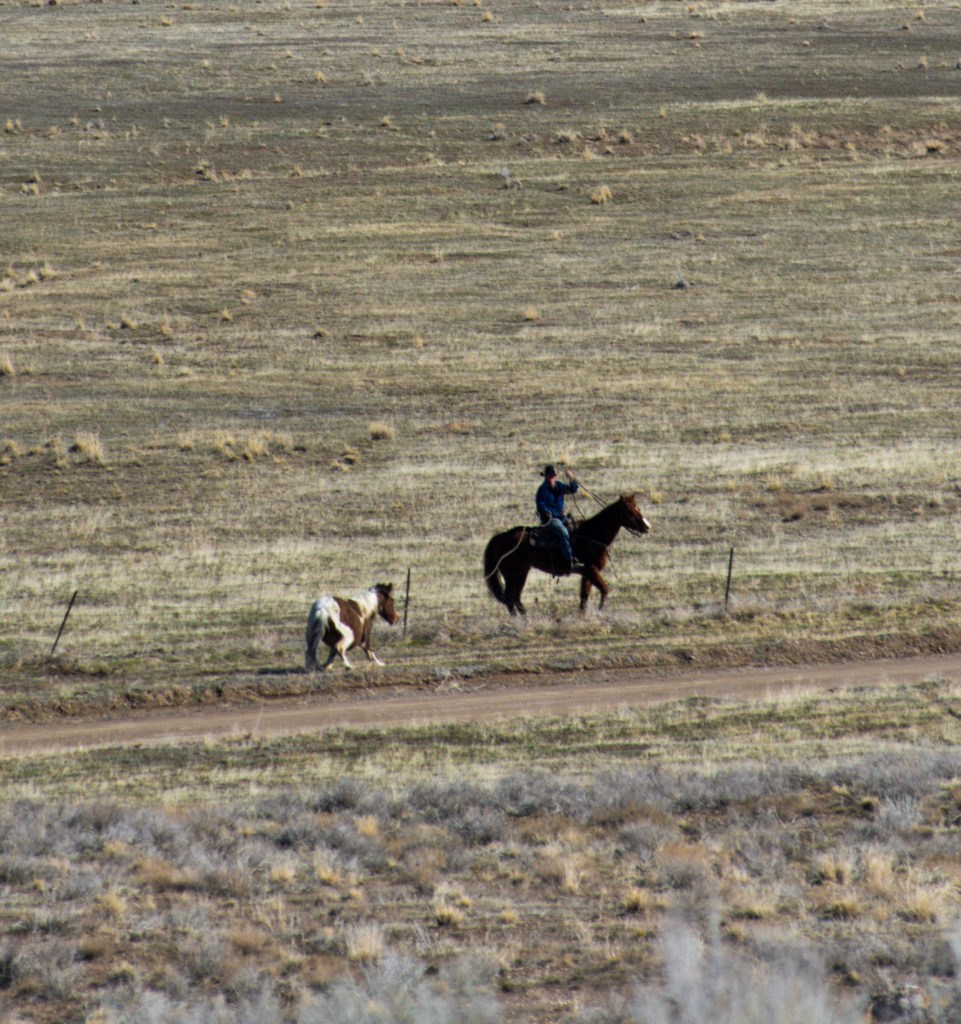 She got scrambled up to her feet as fast as she could. The wrangler thought he had got her.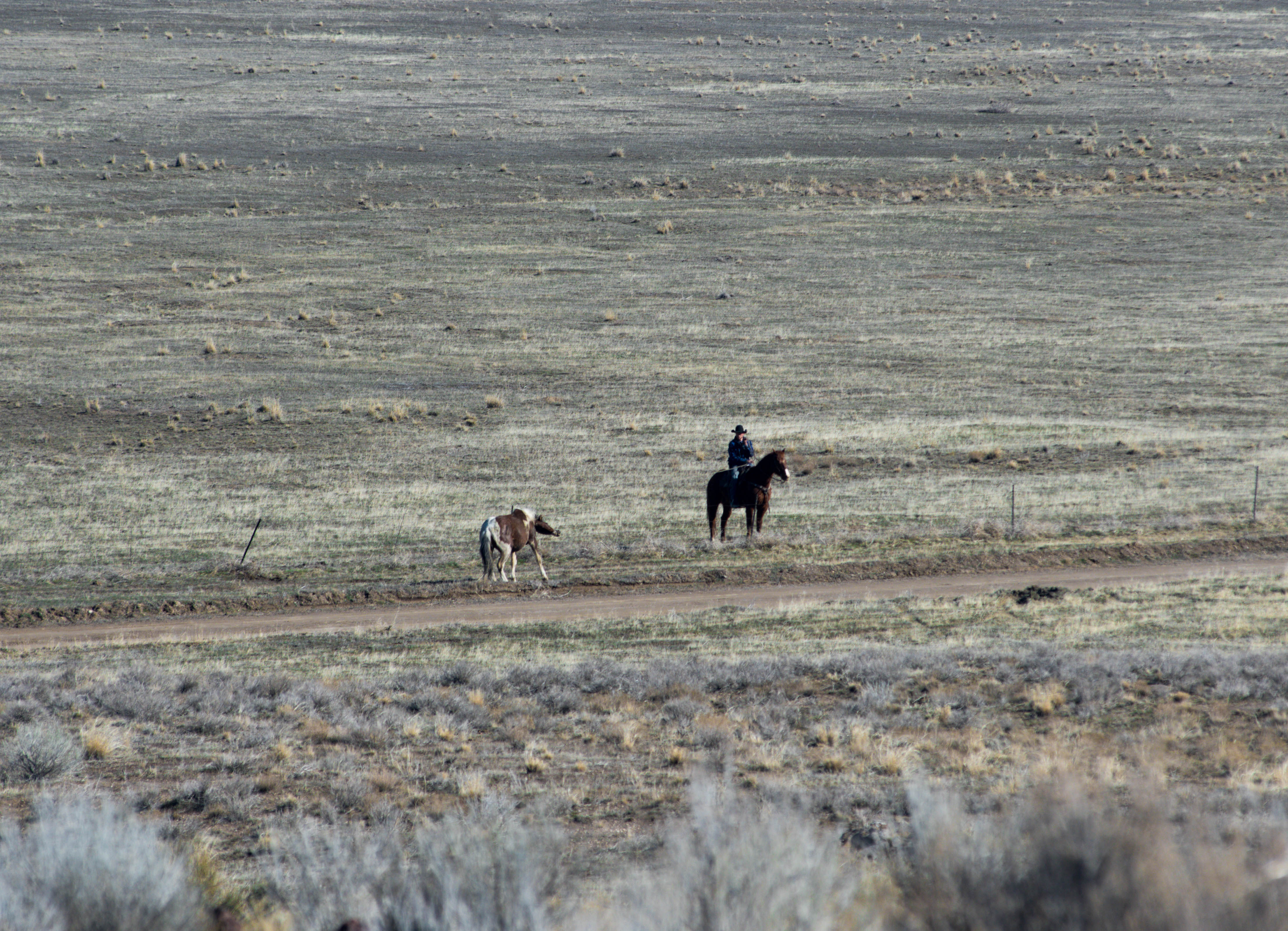 Despite the rope tightening when she pulled, she yanked as hard as she could, and through the strangulation, she took off the opposite way. After all of this, she wasn't giving up. The man had to drop the lasso at this point, and so she took off up the opposite hill, looking behind only to see if he was still pursuing her. Finally after all of this time, they gave up.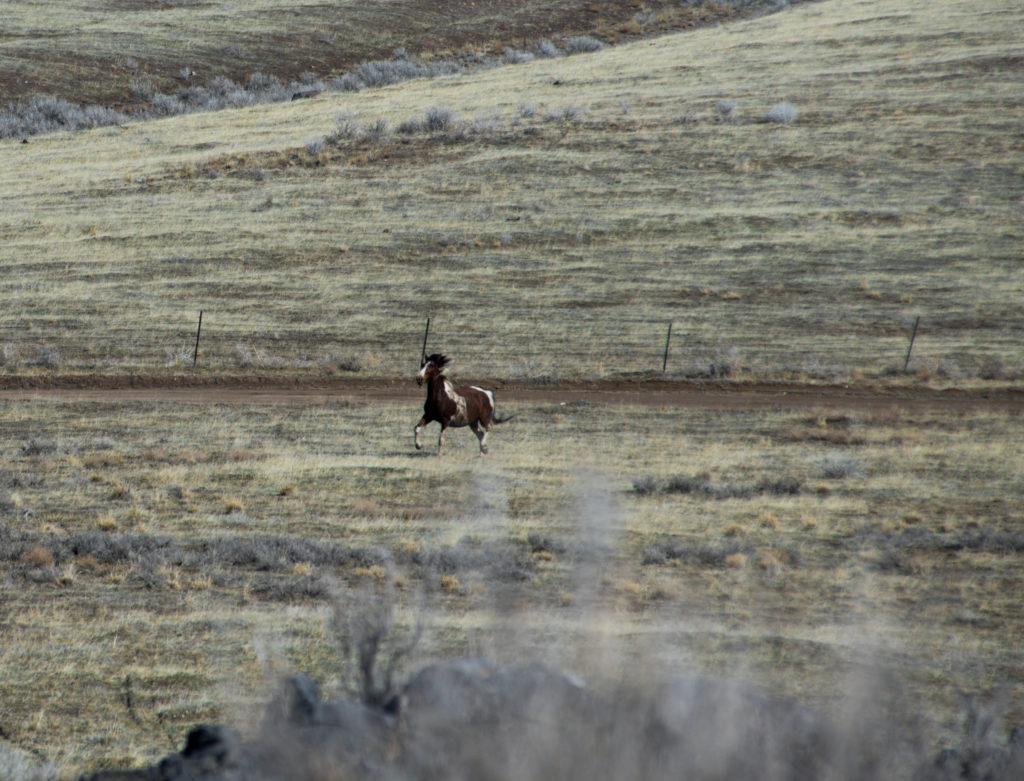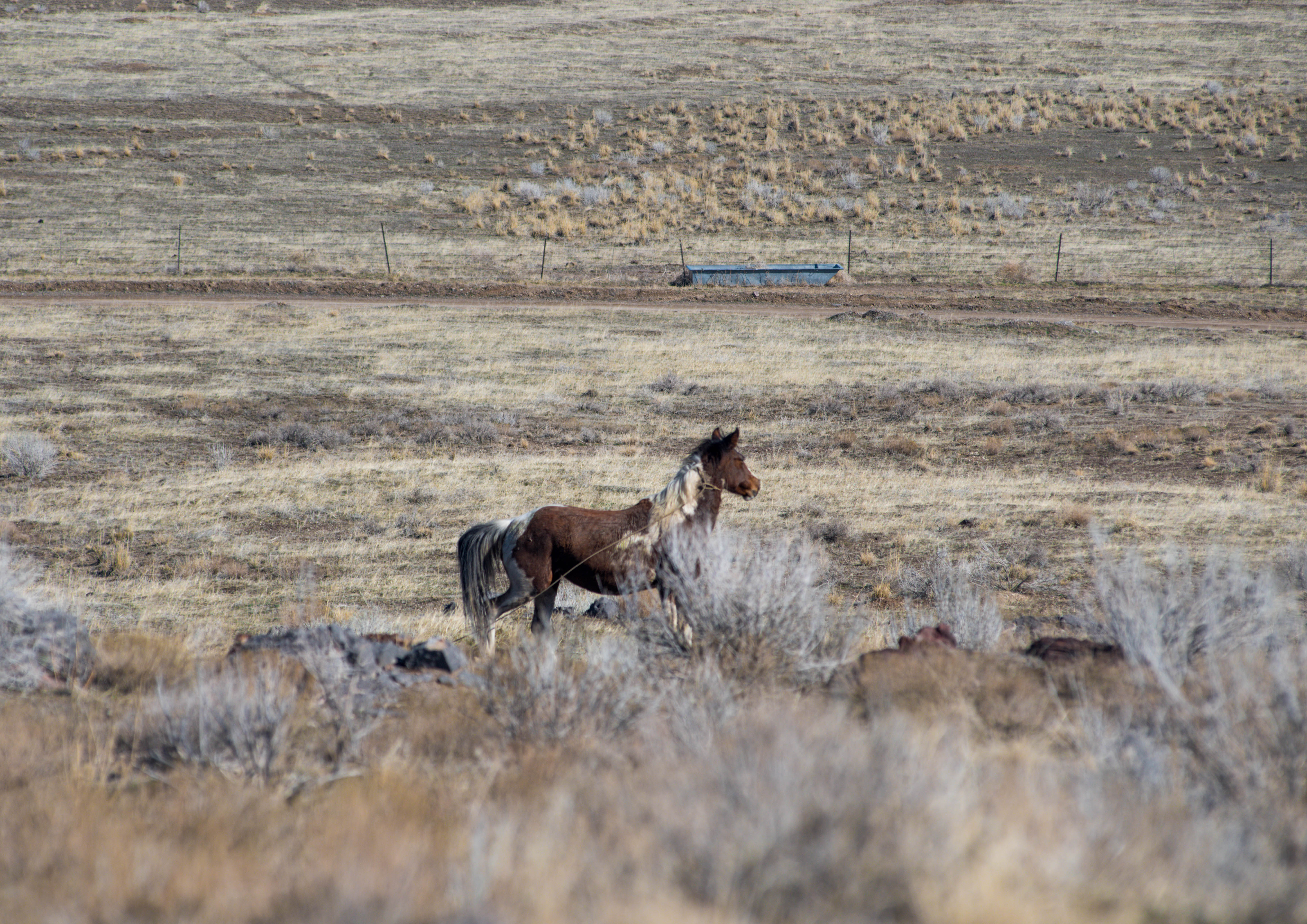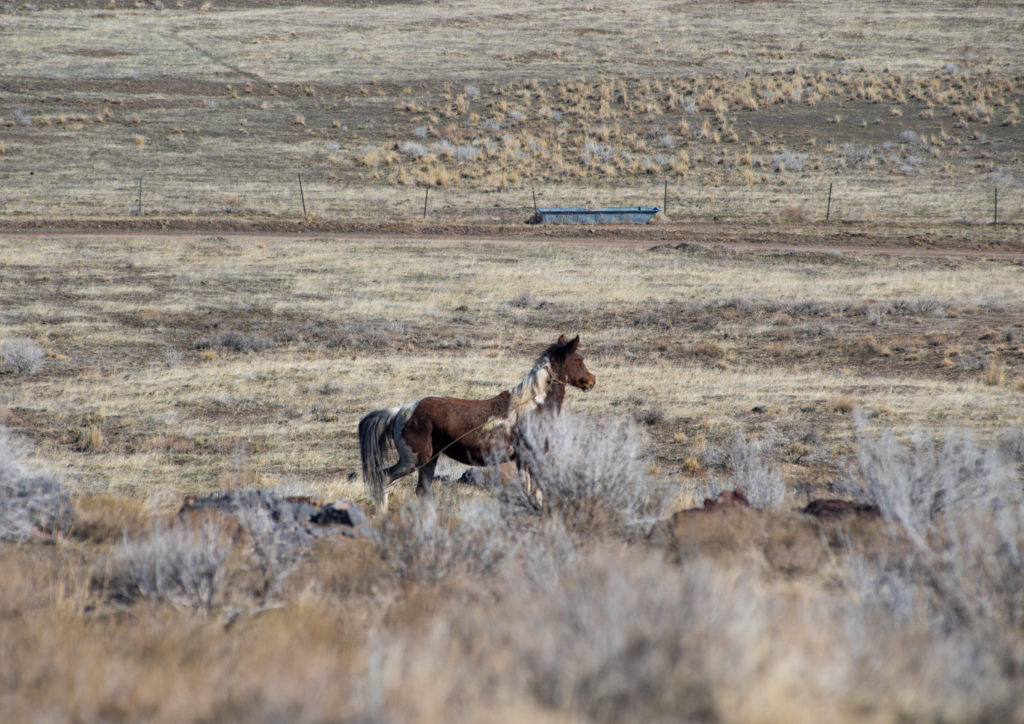 She approached the viewing area.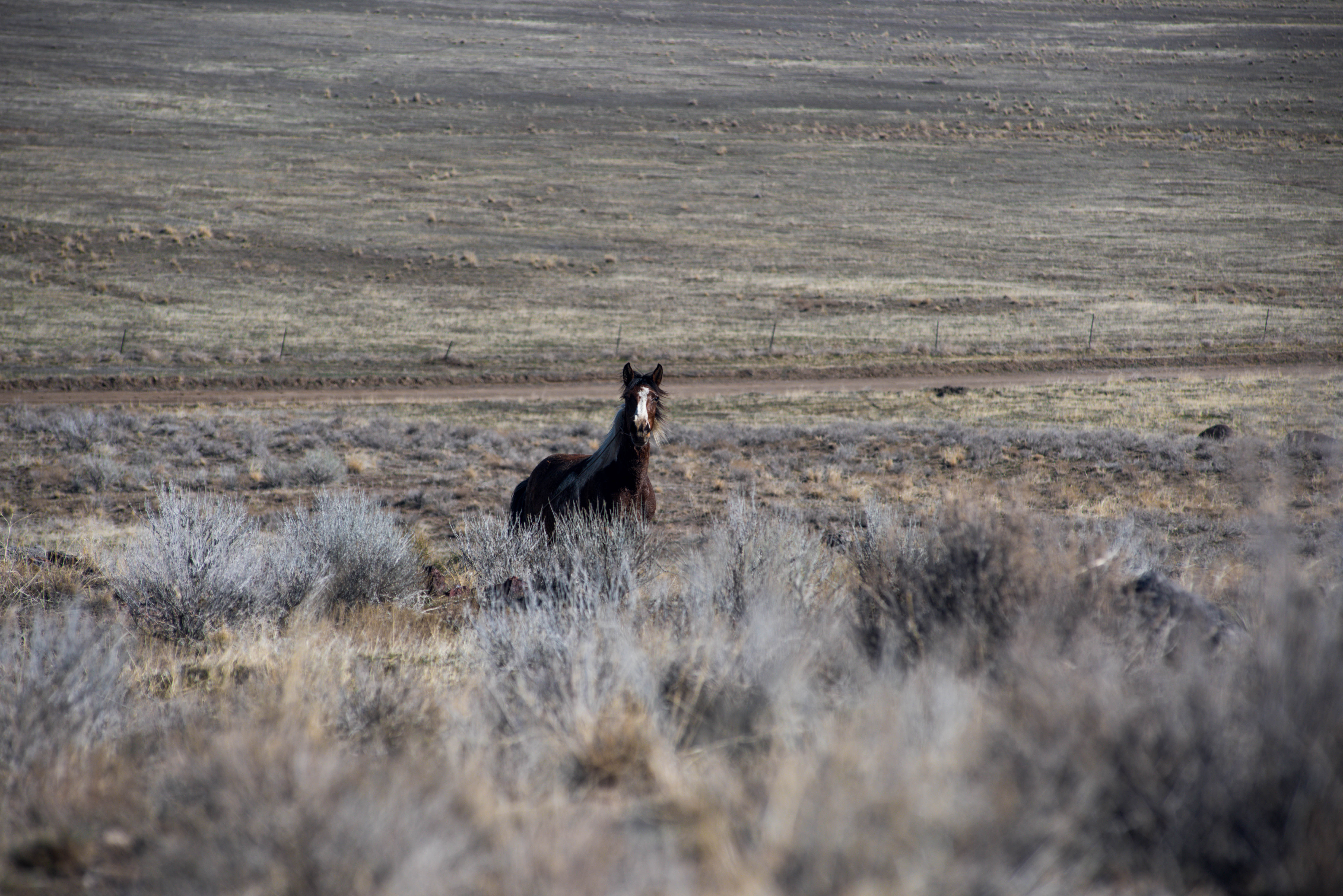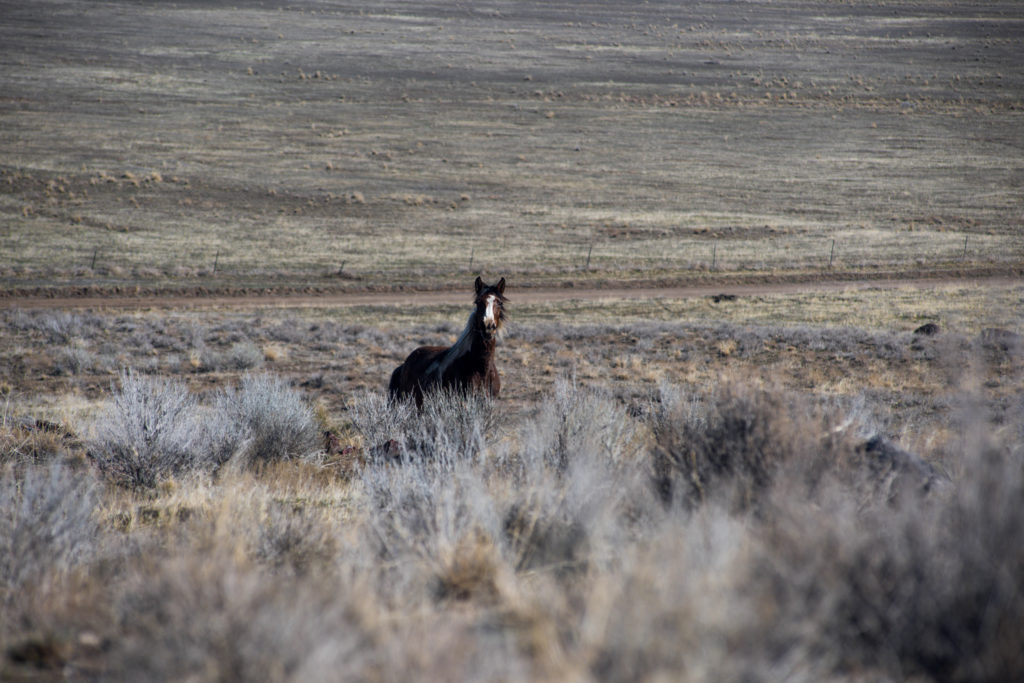 This beautiful mare who we had just seen galloping miles away, who we had just seen crash through the fence, who we had just seen escape despite all odds, was right in front of us.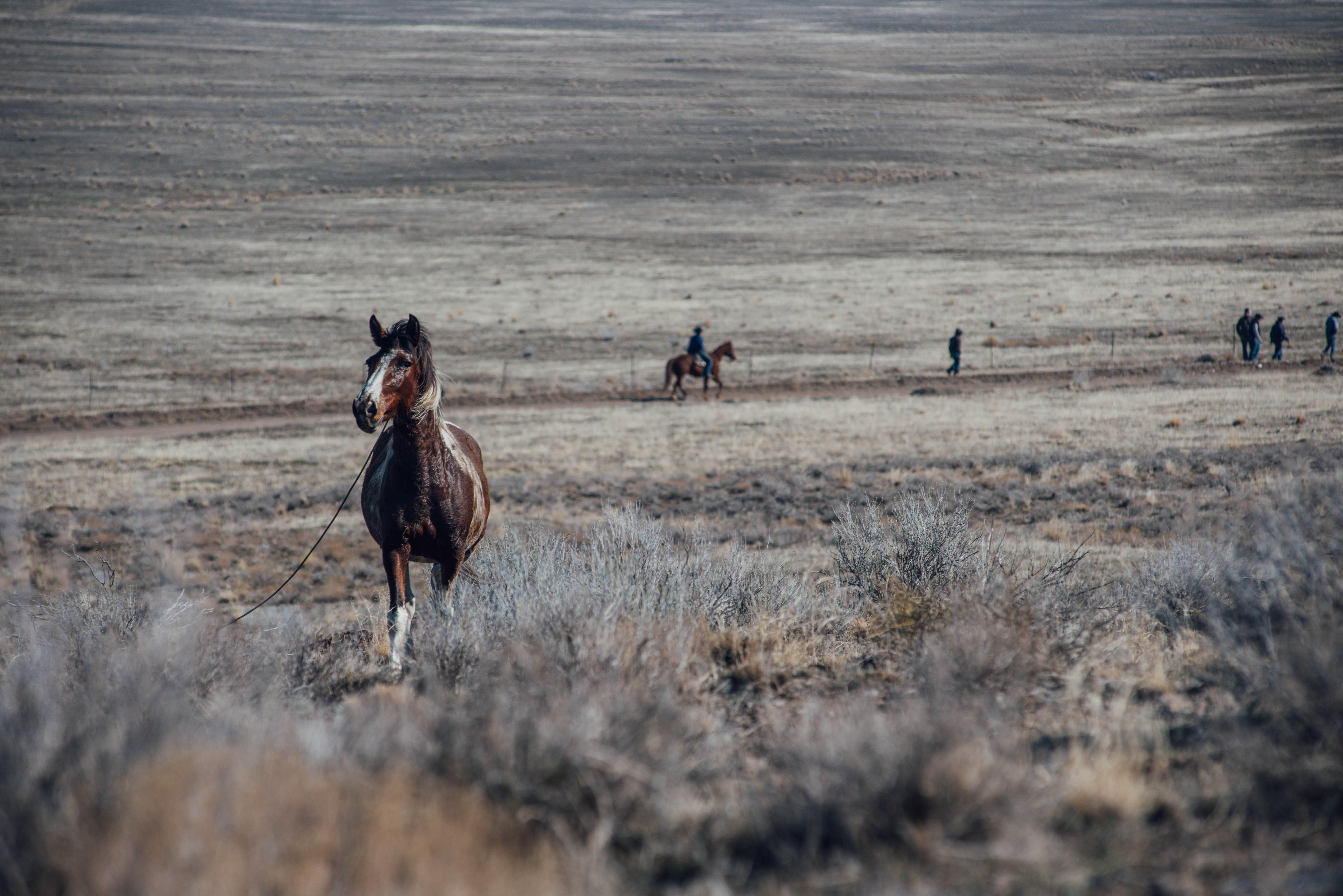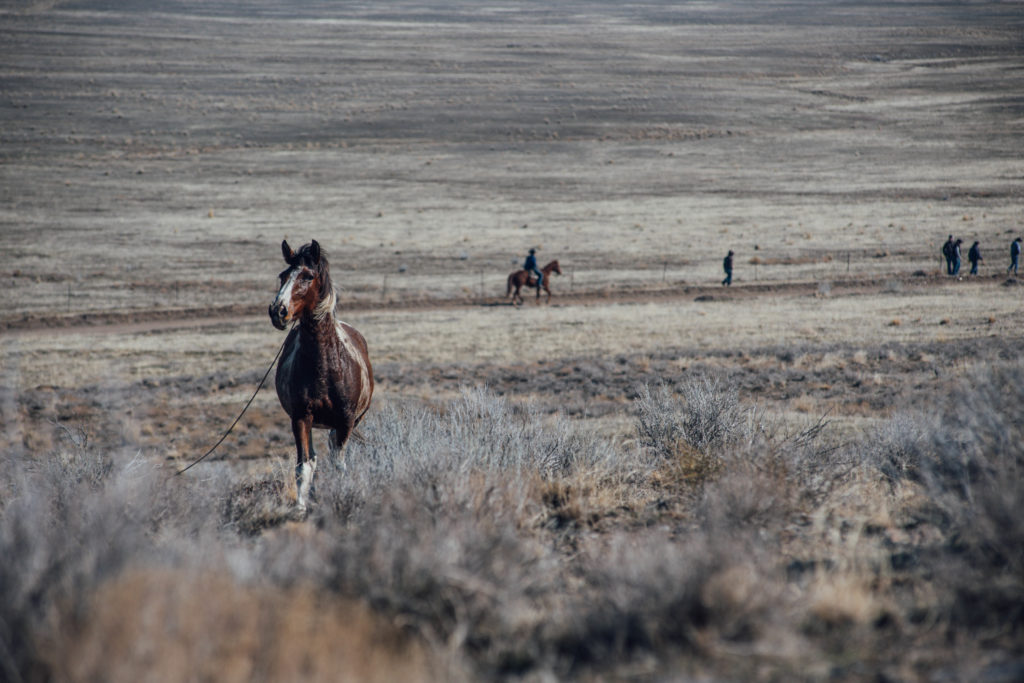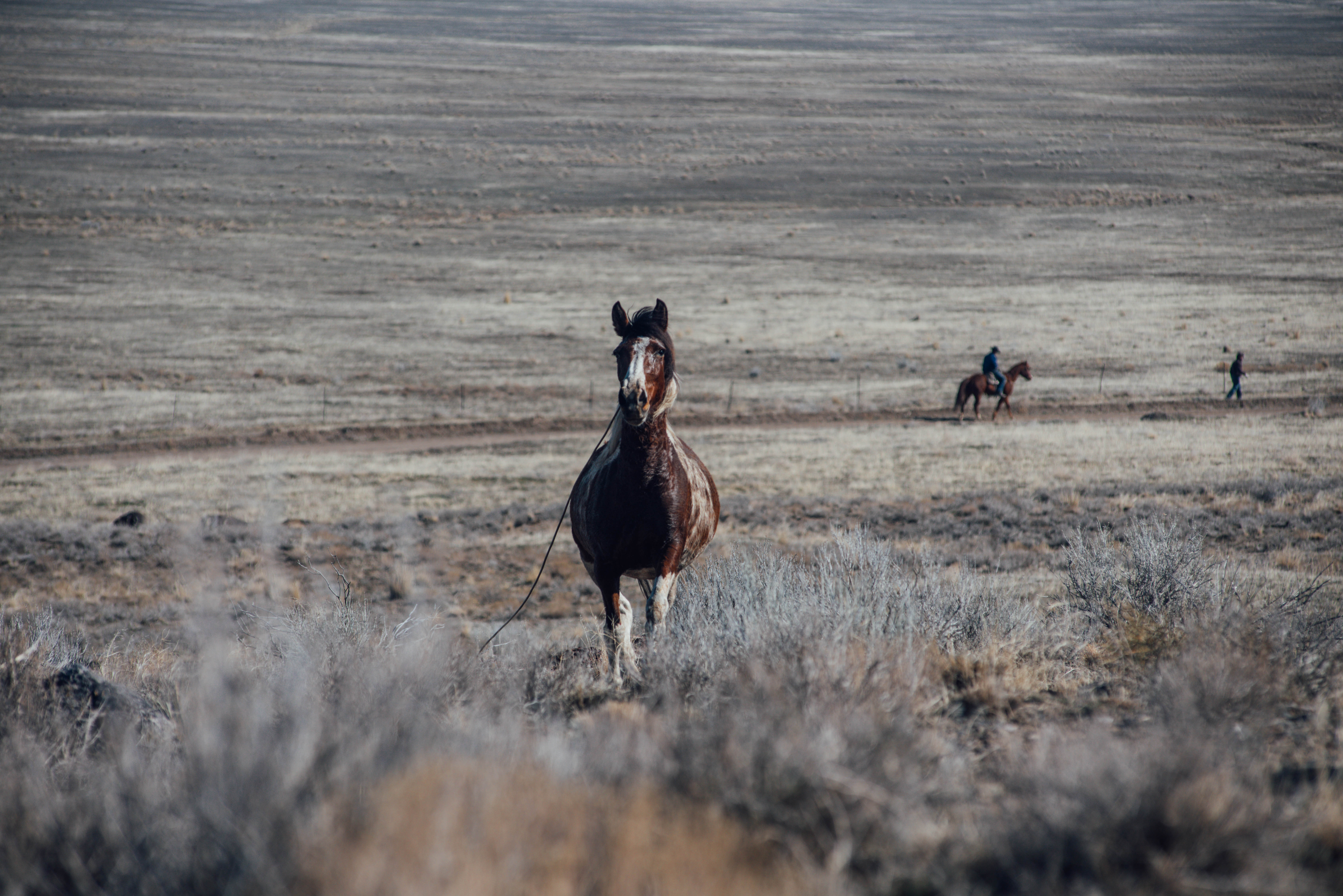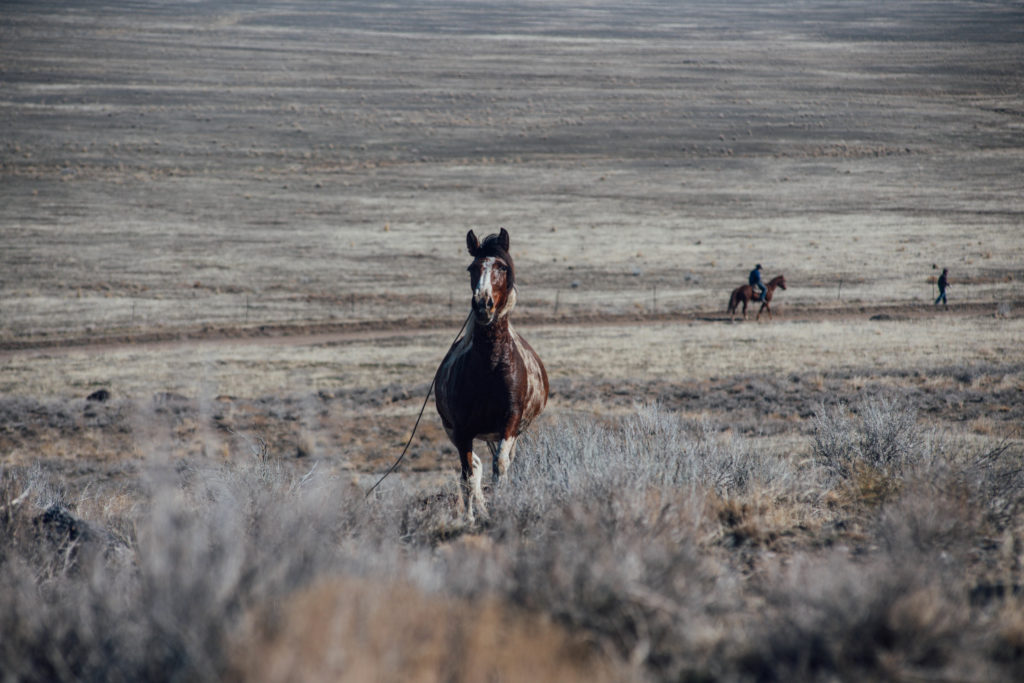 She was maybe 20 feet in front of me, and I got to look into her tired eyes. She looked so drained. Even though she was filled with fear, she just looked tired.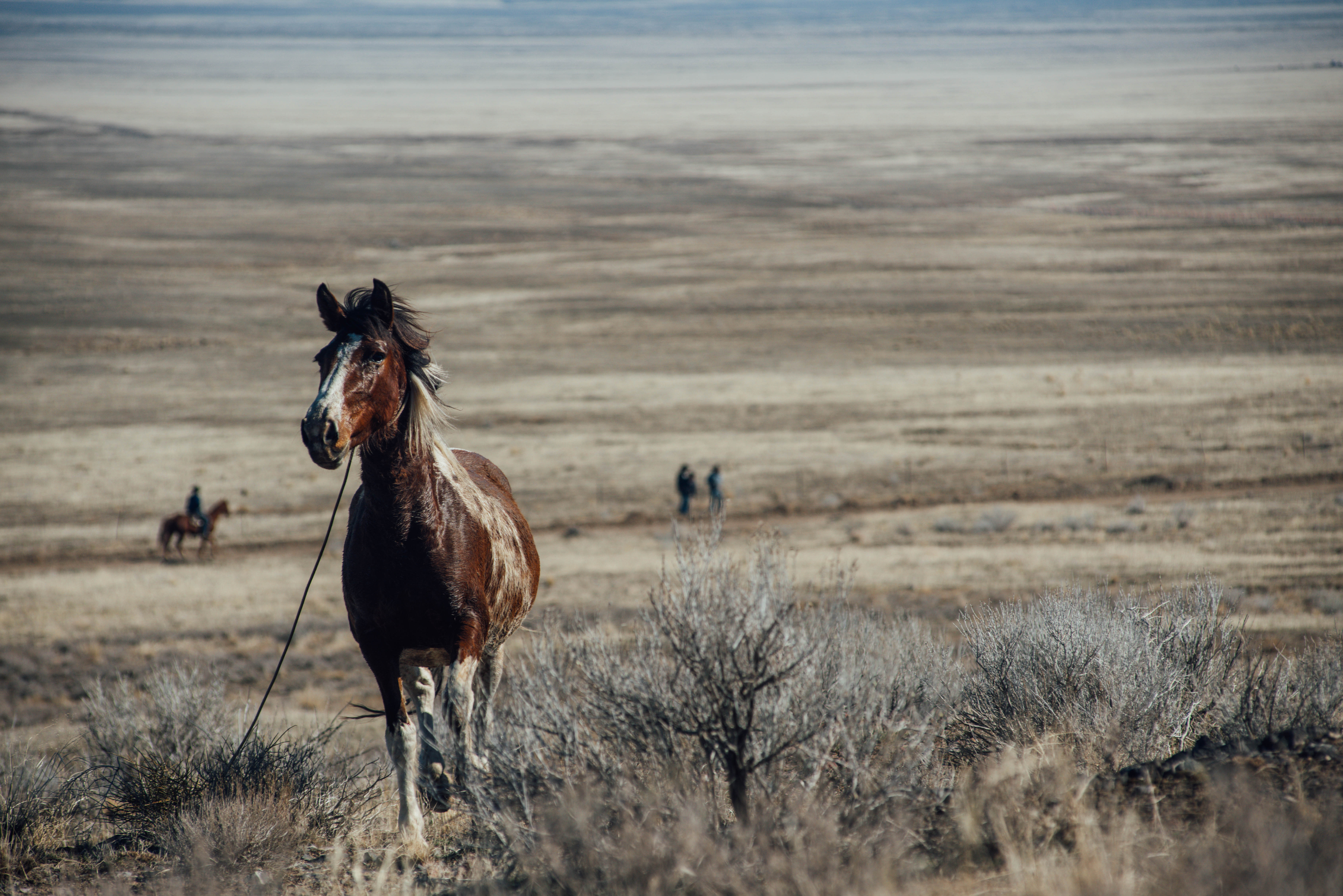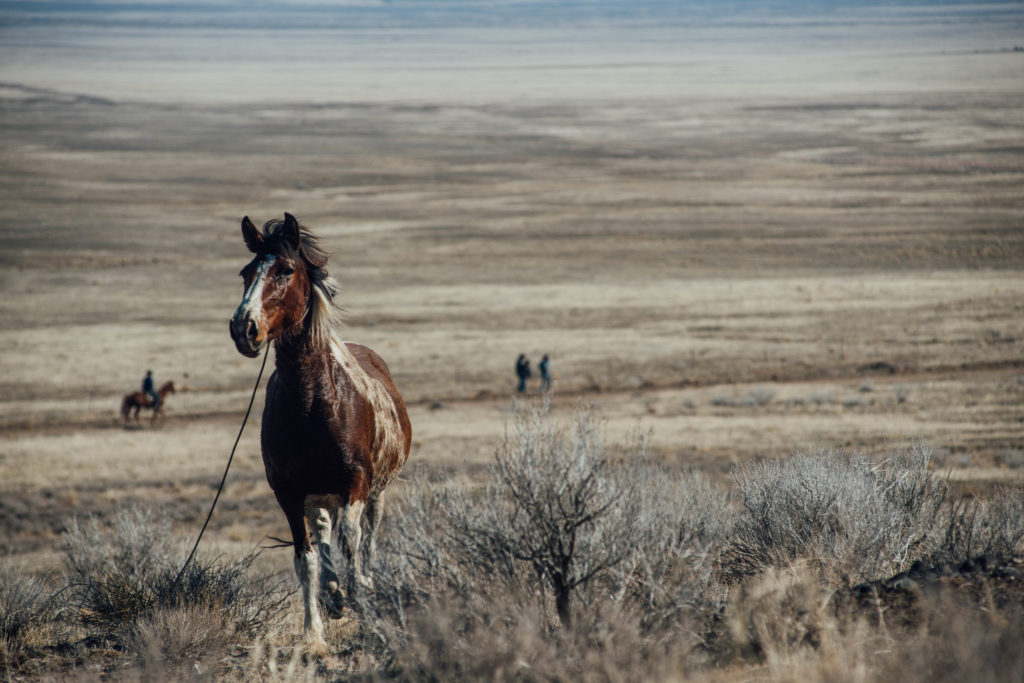 She was maybe 20 feet in front of me, and I got to look into her tired eyes. She looked so drained. Even though she was filled with fear, she just looked tired.
Just look into those eyes…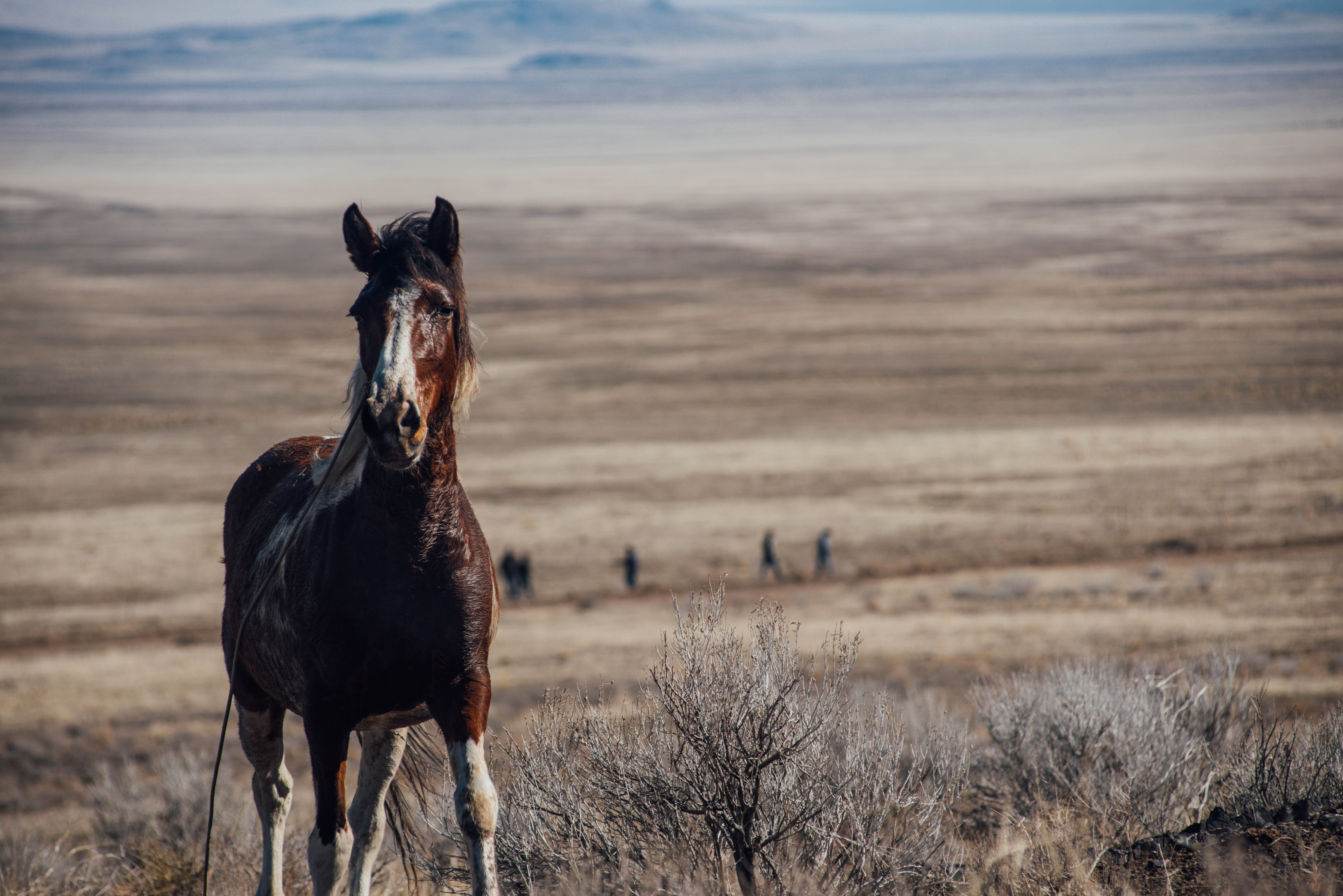 She was drenched in sweat, exhausted, and most likely pregnant.
I could hardly believe what I had just seen… and to now see her up close… it was overwhelming and incredibly emotional to say the least.
After taking a look at all of us here witnessing on the hill, the incredible paint mare trotted around us into the hills of her homeland, the lasso still dragging from her neck.
We were silent.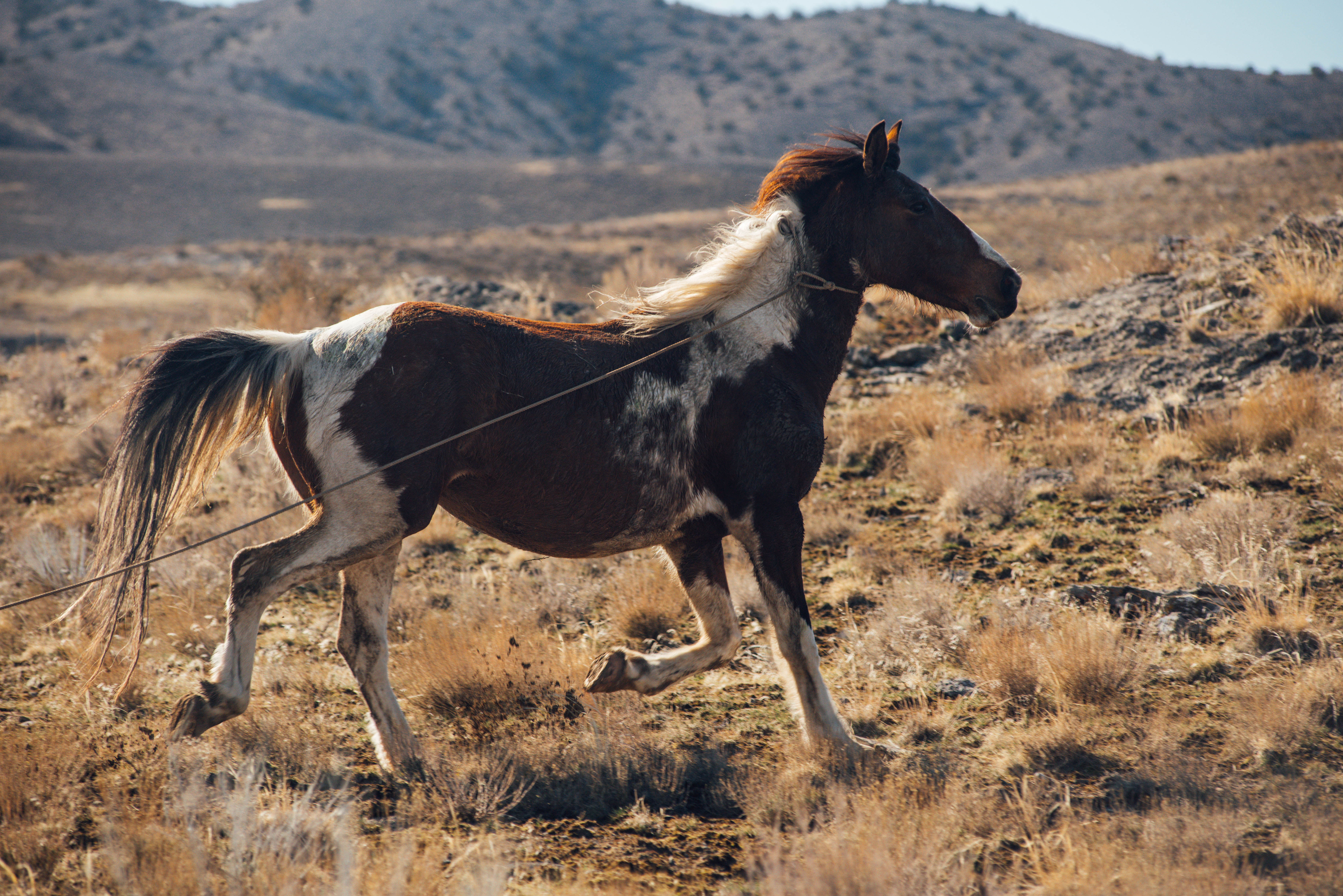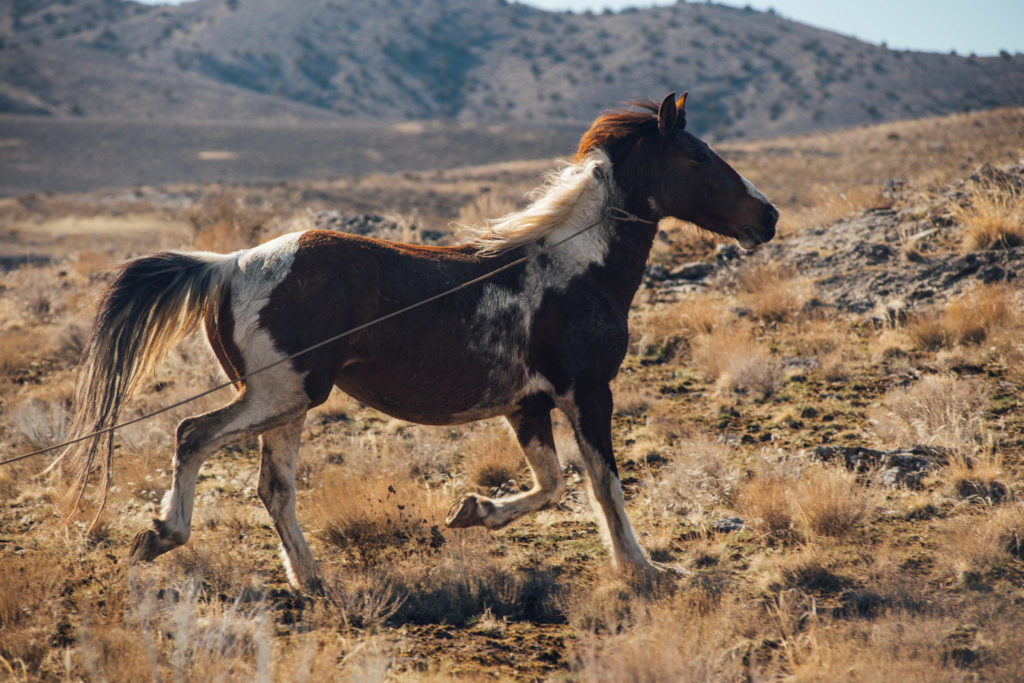 With the impact she took, the cuts she must have gotten from the barbed wire, and the trailing noose around her neck… there is no saying what could happen to her out there. I hate to think about it, but we need to understand the consequence of these actions. She could very well strangle herself if the lasso gets caught on something out in the wild… she could abort her foal after such an impact… she could develop an infection from the barbed wire…
The possibilities haunt me.
I hope so much that she finds a way to get out of the lasso and finds another herd where she can live peacefully.
If any horse could make it through these struggles, I think I would be her; she proved herself to be quite the fighter. Her spirit and resilience is astonishing, and because of it, she escaped against all odds.
She embodies the strength, courage, spirit, and resilience of the horse – all that we love about these incredible souls… it's how she made her great escape. Seeing her fight against all odds inspires me to stand up for these horses, no matter the resistance we may face. I hope her story may resonate with others and encourage them in the same way. If we honor her fight, her story and herd won't be forgotten.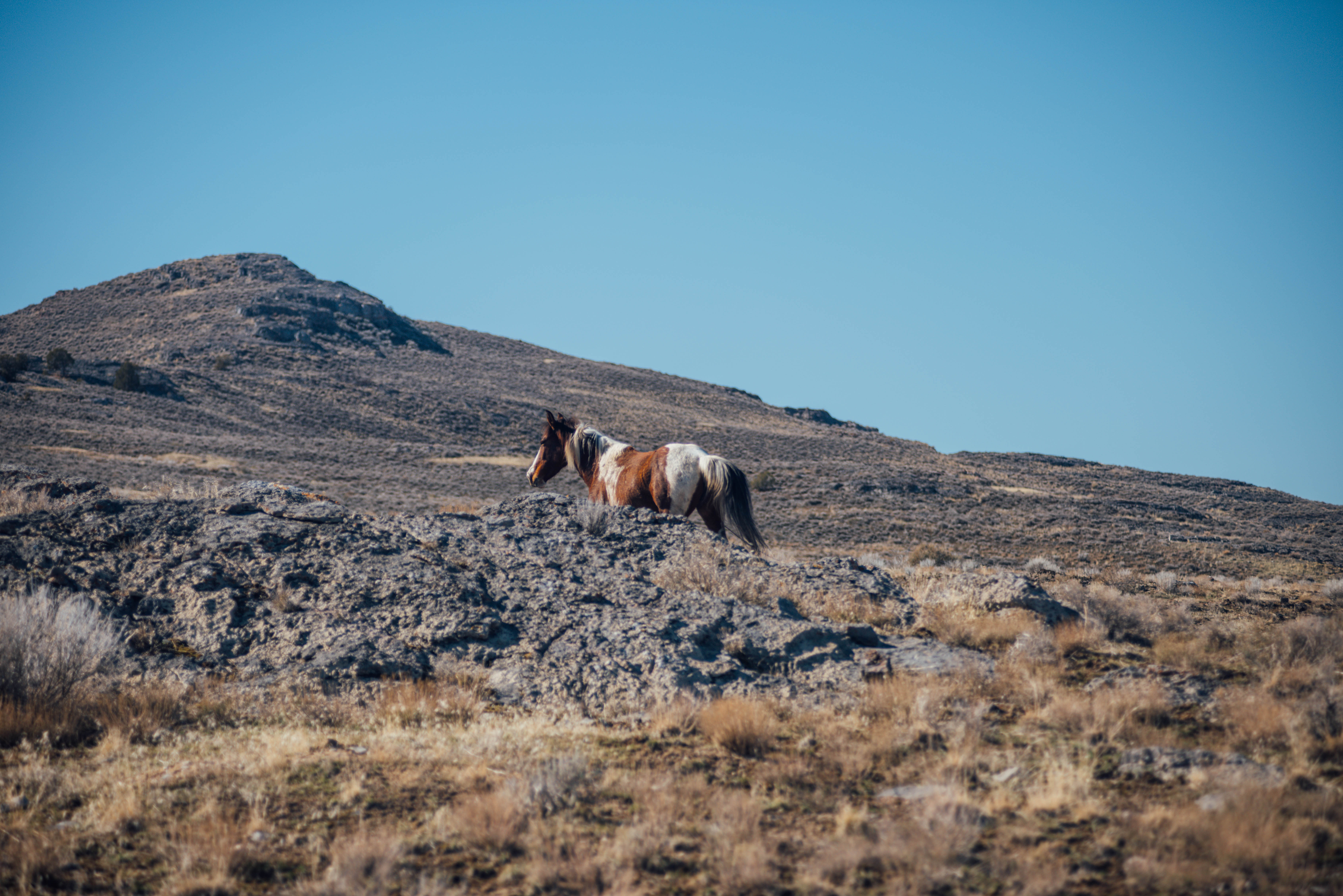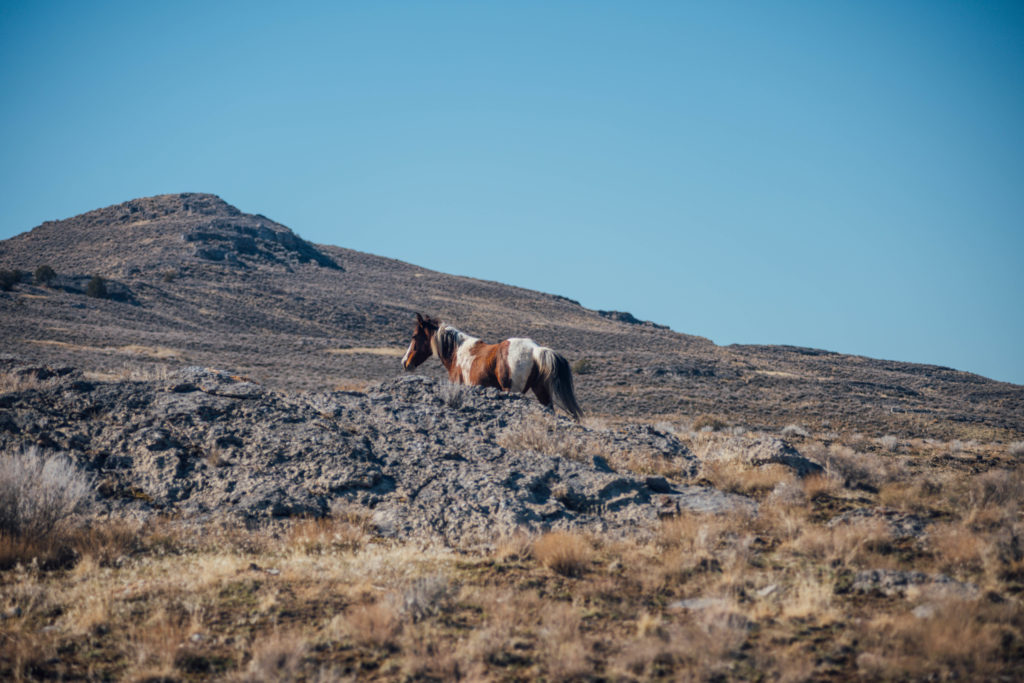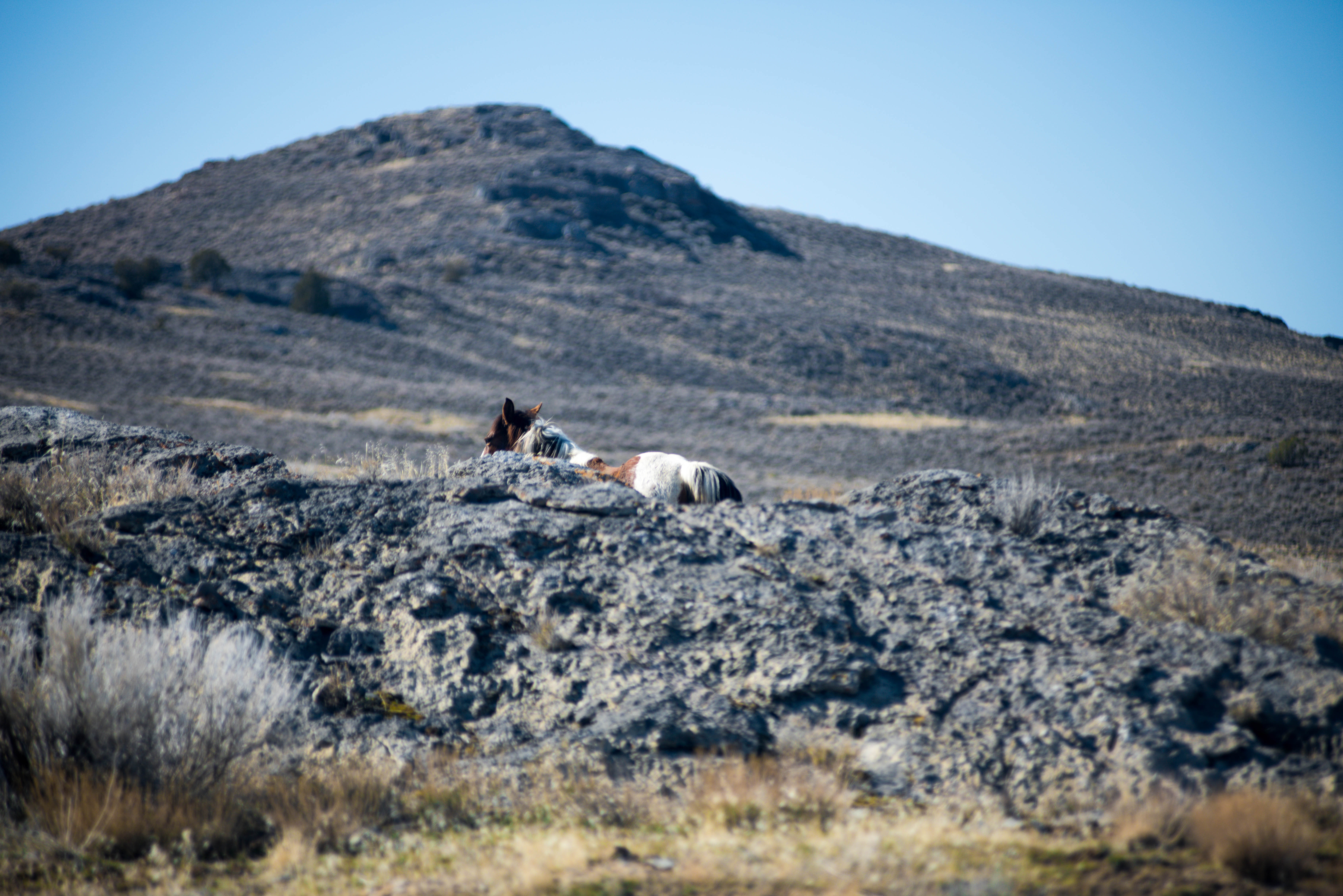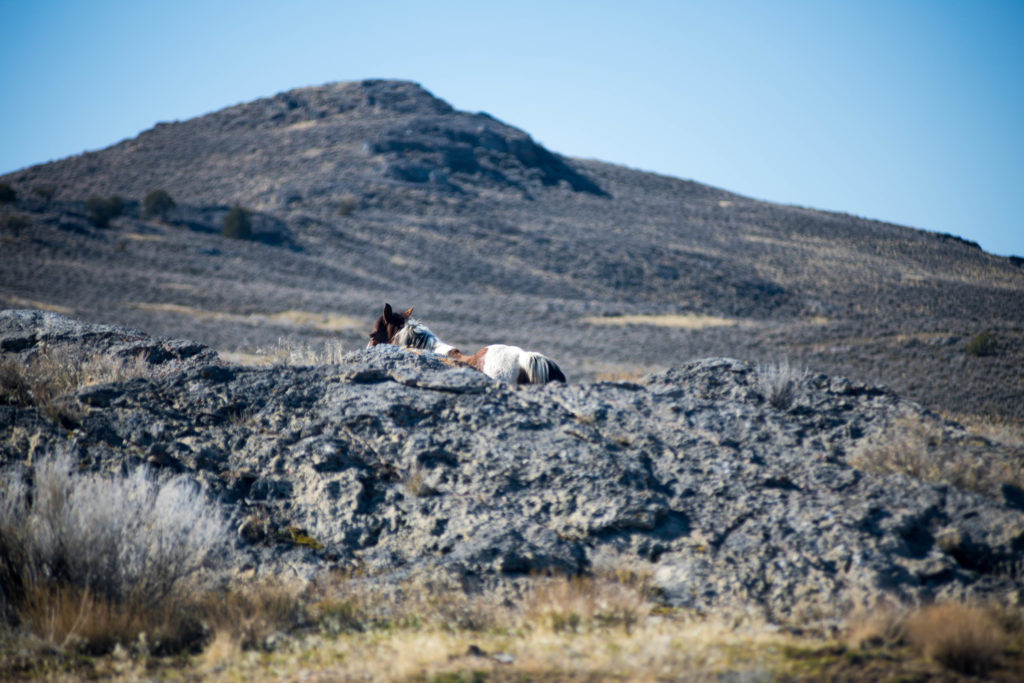 HORSE AND MAN is a blog in growth... if you like this, please pass it around!