I hadn't either…
This weekend, I was at a Junior High Rodeo (very cool for those kids…) and one of the mothers, Barb Varian from the V-6 Ranch (Great Cowboy Camp as well as grass fed beef per my meat-eating Hubby…), mentioned Stormy the Wonder Horse.  She told me, "Just look him up on You Tube…".
OK, so today, I did.  Oy… there were a zillion Stormy the Wonder Horse videos– all of them with a different Stormy.   So I rifled through a few until I saw one that kinda fit Barb's description:  "A girl on a white horse at the Cowboy Challenge" or something like that — it was hard to hear in the stands at the rodeo…  Upon my fast forward investigation, indeed this video had the earmarks and potential to be the right one.
So I hunkered down to watch it.  Upon playing the video in real time, I saw a big title that said, STORMY THE WONDER HORSE.  Good start.  I saw this teenager or young woman, walking a white horse in an arena.  Yup, that fits.  I can see that they are in a large arena with grandstands and obstacles for what appeared to be a timed event. Check.  OK…  The girl/woman walked her horse around and then mounted.  The clock must have started ticking because she immediately started galloping off, kind of…
Truth to tell, I was cringing for her and felt badly.  It was like watching a kid freeze in the school play.  You know the feeling?  You want them to do well but you kinda mouth the words for them and shrink in your seat.  I was shrinking in my seat.  I kept waiting for it to get better but she and her horse weren't really putting in a stellar performance.  It was OK, but I was definitely uncomfortable watching the Wonder Horse be not so wonderful.
This didn't make sense.  I know Barb and her whole family are quite the horsepeople.  Why would she have me watch this poor girl?  I was a bit mystified.  This horse was kinda floundering and pulling against the bit… I mean, he wasn't awful, but he wasn't tight or quick or fast or really compelling to watch.  Hmmmmm.  I kept at it because I figured there had to be something to this story.  But, in the end, there wasn't.  Hmmmmmmm.
OK, well, I figured I must have missed something.  So, again I watched it.  This time I decided to watch it with the sound turned up.  I had been watching the video without the sound and perhaps I was missing some subtle points? 
Again, I sat, with the audio up,  and cringed through the tough start.  But, this time I hear the announcer second my cringes!  He also points out where Stormy was missing and what he should be doing and how he should be carrying his bit…  Obviously, the announcer and I were of the same mind.  But, I continued to watch.  I mean, it wasn't a train wreck or anything, I just didn't find it newsworthy or a challenge type of run.
Now about half way through the video, as I'm rummaging around my desk looking for some brownie crumbs, I hear what I think the announcer says as, "This horse is the horse everyone has been talking about…".  Yeah, I know!  But why?..  Then I hear the announcer say, "Yes folks, this horse is totally blind..".  Wha??!!  What did he say?  BLIND?  I reversed.  I listened again.  Yes, this horse is totally blind.  Ah…  Now I get it.  OMG!!  This horse is doing the cowboy challenge totally blind.  This horse is performing in a huge, crowded and noisy arena for one reason.  He trusts his owner.  Purely and simply, he trusts her.  She tells him to run and turn and whatever — and he does it!  Wow.
So, I guess Stormy is truly a wonder horse!  And, Beka, his owner is a wonder girl.
Here is the story from Stormy's Facebook page.  Yes, he has a Facebook page with lots of followers:
Stormy is an almost solid white appaloosa gelding. He is turning 15 years old this May. Stormy and Beka found each other on Beka's 8th birthday. He was only three years old. They have grown up together, learning from each other. Stormy was Beka's first 4H horse and they competed together constantly, showing hunt seat, jumping, contest and the occasional western class. About five years ago, shortly after a week at the local fair, Stormy suddenly began crashing thru jumps when practicing. He was taken to the vet who feared that a re-occurrence of an earlier bout with moon blindness (equine recurrent uveitis) had developed. Various medications and treatments were tried but to no avail. Within just a couple of days, Stormy was completely blind. Beka was heartbroken,
especially after the vet encouraged her to euthanize him due to the expectancy of a drastic decrease in his quality of life. Beka was determined that this disability would not be the end of their relationship. She dedicated her time to training Stormy to understand voice commands to re-learn all that he had done before. Eventually, they were back to trail riding, competing again in everything but the jumping and he even learned to pull a buggy. Many who saw them together on the trail or at a show had no idea of his handicap. Recently, Beka decided that it was important others learn of Stormy's accomplishments and she applied for a chance to compete in the Extreme Cowboy Race hosted by Craig Cameron and held at the Ohio Equine Affaire. They were accepted….and the rest, as they say, is history. Beka and Stormy raced in front of a packed, standing room only arena, for a crowd that ended up on it's feet and in tears at the end of their free ride during the performance. Beka and Stormy hope to continue to be an inspiration to others in similiar circumstances. They hope to eventually develop a therapeutic riding program and training facility.
I then went back to You Tube to find his entrance video, the one that owners give as applications to the Equine Affaire.  I wanted to see it and know how the judges decided to enter Stormy.  When I found that video, I understood.  It really did show his total trust in Beka and his talent.
So, I'm thankful to Barb for telling me about Stormy.  And, I'm glad that I didn't hear her tell me that he was blind.  I find it ironic that I was watching his video without the sound.  I was like a deaf person watching a blind person.  But, it also drove the human/horse bond point home.  It is all about trust, time, devotion and patience.  That Beka is a wonderful steward for Stormy.  We should all be so lucky.
Here is the link to Stormy's application video to the Equine Affaire's Extreme Cowboy Race.  It is really worth watching.   And here, finally, is the link to his actual Extreme Cowboy Race.
Atta boy, Stormy, atta boy!
THIS JUST IN!
I saw this Facebook Page and was very compelled to put the word out.  This girl, Micah, had her horse stolen on Sunday from a horse show, right under their noses — and in a good part of town (Stephenville, TX)!  The family has set up a Facebook page and it ended up in my mailbox.  I just love how the internet works!  So, I am passing it onward in hopes that someone, somewhere knows something.  Also, there is a $7500 reward.  Read all about it here.  Lets do our best to make a difference and not allow this kind of thing to continue!  Let's use the power of the internet to find this lovely mare and bring her back to her family.
UPDATE TO THE UPDATE! — STOLEN HORSE FOUND IN TWO DAYS THANKS TO FACEBOOK!
Here is the happy ending to the above story!

Boy's Missing Mare FOUND!
Updated 2:18 PM CDT, Wed, May 19, 2010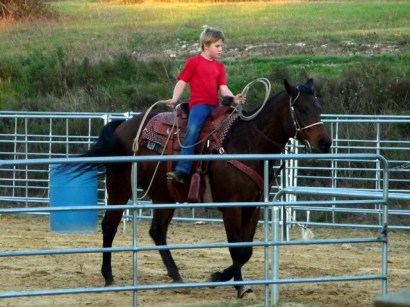 Berry Family Photo
Sandbox, a horse stolen from team roping competition in Stephenville over the weekend has been found alive and well and will be reunited with his boy owner Wednesday afternoon.
The Berry family launched a Facebook page for "Find Sandbox the Horse" and this morning an update on the page said:
"We are headed to Stephenville!!! Someone found a horse covered in mud walking down the road. Description matches!!! This looks really promising!!! Pray pray pray!!!
Micah Berry confirmed to NBCDFW that the horse was definitely Sandbox.
Ryan Taylor, 22, found the mare when he arrived to work on his ranch. Taylor first thought it was a neighbor's horse, then remembered receiving an email about a missing mare. Taylor eventually was put in contact with Micah Berry, and they were able to figure out it was Sandbox by her identifying markings.
Berry then drove to Taylor's ranch to get the horse. "She jumped out of the truck almost before it came to a stop and was in tears," Taylor said.
Now the mare will go to a vet to be checked and then reunited with his 6-year-old owner, Kade Berry, who is in school and unaware the mare has been found.
The Berrys purchased Sandbox seven years ago, specifically for their children to ride, and they think she was stolen for the same reason.
"I'm pretty sure somebody saw that boy riding that horse all day yesterday and was thinking they already had somebody looking for a young-kid horse they could sell real quick," Kade's father Kirby Berry said.
Kirby Berry said he did not think the theft was random.
"There (were) 300 head of horses in that barn," Berry said. "She was three rows in, in the middle of that barn. They had to go pick her out."
An all-out search has been underway for the missing mare since Sunday, with a reward that quickly grew to $8,000.
More: Facebook: Find Sandbox the Horse
HORSE AND MAN is a blog in growth… if you like this, please pass it around!
If you want an update on the Bucket Fund or to donate, please click on the photo (photo credit, Trish Lowe)
HORSE AND MAN is a blog in growth... if you like this, please pass it around!