On May 1, 1999, a ten-year-old gelding made his 66th and final career start, racing for a $6,250 claiming tag at Woodbine. It was his first start in almost ten months, the long layoff necessitated after he was pulled up in his previous race, a $5,000 claimer at Philadelphia Park. He was ready and ran quite well – tracking the wire-to-wire winner the whole way to finish second, clearly the best of the rest.
That scenario is often played out at racetracks around the world, but this particular return to the races was much more significant than most – it meant that the gelding, named Time Alert, became the last known offspring of Secretariat to run in a horse race.
His effort came three weeks after another son, the 12-year-old Double Agent, concluded his 71-race career with a fourth-place finish in a $2,500 claiming race at Albuquerque.
Nineteen years later, Time Alert is one of the last remaining sons of Secretariat. At age 29, he has lived his entire retirement in Ontario under the watchful eyes of John and Maggie LeBlanc and their son Douglas, who literally grew up with the horse.
The gelding has been somewhat of a racing ambassador, making several popular appearances at Woodbine over the years to help raise funds for LongRun Thoroughbred Retirement Society. LongRun was one of the first Thoroughbred adoption and placement organizations in the world; Maggie and her sister Martha were part of the team that established the facility in 1999.
A royal start
Bred in Ontario by Kinghaven Farm, Time Alert was born on January 28, 1989. The chestnut with a big white blaze and three white feet was the third foal from Snow Blossom, a stakes-winning The Minstrel mare. Her first foal was the winning Secretariat filly Winter Party; she later produced a minor stakes winner by Twining named My Golden Son.
Time Alert's early tutelage came under the watchful eye of trainer Roger Attfield, and he was in the same crop as Kinghaven's future Queen's Plate winner Alydeed.
He was feisty and a handful to train from the beginning, but he just didn't have the talent of his barn mate. An early tendon injury delayed his racing debut until a snowy day at Greenwood on March 22, 1992, and he was never a factor in the 4½-furlong maiden special weight.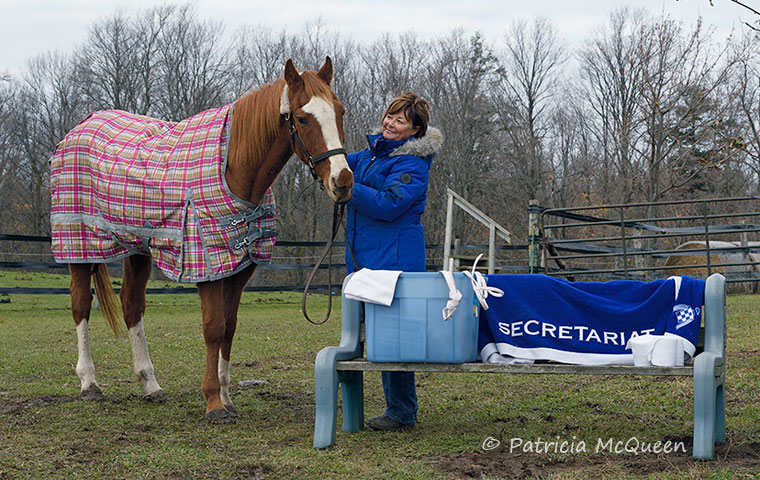 He next surfaced in a maiden claiming race at Fort Erie on June 6, and the flashy well-bred horse was immediately taken for $6,250. He won the race by a length under jockey Douglas Gibbons, who would partner with him in many future races. Claimed again in his next start for $3,750, he finished fourth. New owner F.A. Stable would keep him for his next 42 starts, initially with trainer Veronica Reigel and then for P.J. (Bosco) Buttigieg. Time Alert was gelded while in the latter's care.
Three more unsuccessful sprint starts finished out his season. He returned to the races in April 1993 in another 4½-furlong race at Greenwood, finishing far back. He made 13 more starts that year, his only victory being a six-furlong allowance race at Fort Erie in July.
Time Alert improved on that record in 1994, winning two of eight starts (one a dead heat) and finishing second twice, while racing exclusively in sprints at Fort Erie.
A legend rides
After a winter rest, he returned at Woodbine in 1995 with new trainer Lisa Aitchison. Two sharp seconds to begin the year were followed by the fifth win of his career, going six furlongs for an $8,000 tag at Woodbine on May 11.
Aitchison was thrilled that Hall of Fame jockey Sandy Hawley rode him that day – his agent knew the gelding was a live mount. She met the jockey in the paddock before the race and remembers thinking, "What can you tell a legend?" when he asked for instructions. She told him to stay towards the outside, and importantly, "don't make the lead until it matters." The gelding had a habit of easing up once he got to the lead, figuring his job was done. Hawley rode to perfection and he won by 1¼ lengths.
While climbing up the claiming ranks, two more close seconds followed, and then Time Alert was tried twice on the turf again; his earlier turf efforts were unremarkable. After a good fourth, he almost won at seven furlongs on the Fort Erie grass. Leading from the start, he lost by a nose – with a good excuse. According to the chart notes, he was "spooked by geese".
Back on the dirt for his next start and away from the pesky birds, he won by the largest margin of his career, 2¾ lengths, but he came out of that Fort Erie sprint with a chipped knee and was off for eight months.
At seven in 1996, he won four of 13 races, including the only back-to-back victories of his career in May. By October, although still owned by F. A. Stable, his new trainer was Nancy Wilson.
Aitchison had grown very fond of Time Alert, so she claimed him back at $10,000 for owner Val Pollack on November 16. More good efforts followed, including the longest win of his career, seven furlongs at Woodbine on December 12 for an $8,000 tag.
In 1997, he won two of ten starts, most at Woodbine before Aitchison moved south of the border for the winter. She raced him twice at Philadelphia Park before losing him in a claim when he won on January 17, 1998. He raced five more times at Philadelphia Park for new connections, winning once; he was pulled up with a strained tendon and vanned off in his last race there on July 7.
Aitchison had told his new owners that any time they wanted to retire him, she'd take him back.  While his retirement loomed, she kept him with her stable and worked with him over the next few months. He was doing well enough that she brought him back for that one last race at Woodbine in the spring of 1999. Afterwards, she came to the conclusion that it was indeed time to retire him. He ended his career with 14 wins in 66 starts and earnings of $104,045.
The Secretariat connections
The LeBlancs had entered Time Alert's life well before he was ready to retire. John and Maggie are each connected to Secretariat in most unusual ways, and are thrilled to have one of his sons in their care.
Maggie lost her biggest fight with her father in 1973, when as a youngster she desperately wanted to go see Secretariat in the Canadian International but he decided the weather and the crowd would make it unbearable. Fast forward to 1990 and Maggie was living in Melbourne, Australia. She scanned the big field for that year's Melbourne Cup and saw a son of Secretariat among the entrants – Kingston Rule. Naturally, she placed a bet on him. When he won, "Everybody thought I was terribly clever," she said, laughing.
A few years later, back on a farm in Canada, she discovered Time Alert. She saw him in the entries one night for $6,250, and told her sister that if she had that kind of money, she'd claim him and bring him home. "I wanted to say I have a son of Secretariat in my paddock."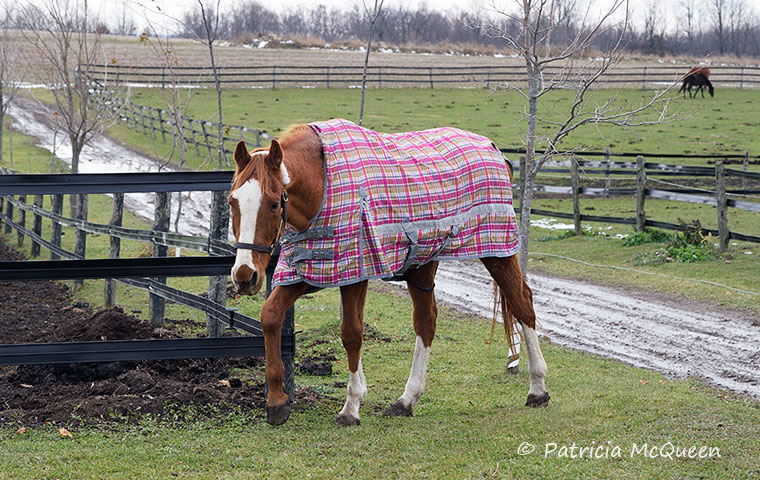 In 1997, she and her sister had a 2-year-old named Doug's Legacy (named after their father) who was proving difficult to train, and she was advised to bring in John LeBlanc to work with the youngster. LeBlanc had been around racehorses all his life and started training in 1992; to this day he exercises his own horses as much as he can.
Because John knew Aitchison, Maggie met Time Alert at the same time. And as it turns out, she fell in love with both of them. "Time Alert had such a presence, prancing his way to the track every morning. I told Lisa that I'd always have a paddock for him when he retired." Unlike that battle she lost with her father, this time she got her way – bringing home Time Alert in 1999 and marrying John in 2001.
John had gotten to know Time Alert quite well when Aitchison went to Philadelphia Park. She had injured her back, so he went down to help her set up the stable and exercise the horses. When he got aboard Secretariat's feisty son (who was then almost nine years old) for the first time, she told him to hold on – that he would go a fast quarter mile and then ease off and gallop a mile and a half. "She said he'd still come home a little bouncy – he was a sharp-feeling horse. And that's pretty much exactly the way he was."
John's early connection to Secretariat was a most unusual one. His father was a successful jockey in Canada for 30 years, and happened to be in Kentucky on Derby weekend in 1973 to ride the previous year's champion 2-year-old filly La Prevoyante in the Kentucky Oaks. Lifelong friends with Secretariat's regular rider, Ron Turcotte, the elder LeBlanc picked up the Derby mount on Angle Light on Turcotte's recommendation.
Not surprisingly, it was a memory he'd never forget. "Asked about that ride a few years ago, my dad said 'when I broke out of the starting gate, it was like breaking into a wall of noise.' He said Secretariat flew by him like he was standing still – it was unbelievable how much horse Secretariat was," said John. "I'm proud of the fact that we have a Secretariat, especially such a special individual."
An ambassador is born
In retirement, Time Alert became the first poster child for LongRun. He and the LeBlancs' young son, Douglas, were featured in LongRun's brochure and promotional materials, and Time Alert's appearances at Woodbine served as fund raisers – people could get their picture taken with him in return for a donation. In every case, fans would be lined up all day for the opportunity to see and pet the son of Secretariat. His former trainers, jockeys and other racing people would also stop by.
"Everyone would be overcome with emotion," said Maggie. "So many times we'd end up standing there in tears. Just because of who he is. All horses are special, but when you have a son of an immortal horse like Secretariat, it gives you chills."
John would always take him to Woodbine a few days in advance of his appearances to help him get settled, and enjoyed walking him around the barn area in the mornings to let him visit old friends and admirers. But, even as the gelding got older, John had to be careful; he'd still try to wheel and spin away. Whether he was riding him or leading him, he couldn't let his guard down for a moment. It's a character trait that has stayed with him all these years. "He still has that bit of fire in him," said John.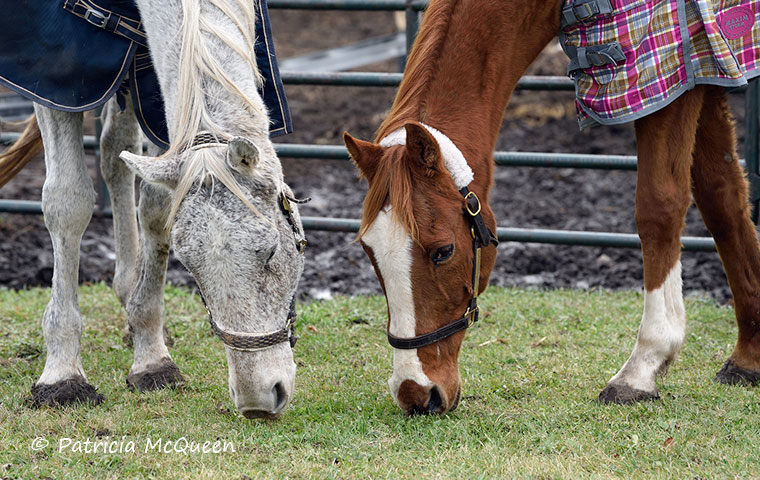 A special travel kit accompanied Time Alert to Woodbine. When he led a post parade with John aboard, as he did on the 30th anniversary of Secretariat's win in the Canadian International, he would be decked out in a white bridle, saddle cloth and wraps. "He was as proud as he could be out there, dancing and strutting for the crowd," said Maggie.
In addition to his public appearances, he has done his share of work on the farm: babysitting weanlings and teaching them respect and discipline. "I find the babies that have been raised by him or other older horses are a lot easier to handle when they grow up because they've been taught by a senior," Maggie explained.
Around the farm, John often lets Timer (his nickname) roam free around the barnyard when he's out working, so the gelding can wander and socialize. And he's constantly on the move, even when in his stall. "I've noticed that with older horses – they tend to keep moving forward, always walking or turning," he said.
The horse's biggest health challenge is that he's lost his molars, and has problems eating and swallowing as a result. Soaked hay cubes and beet pulp provide most of his nutrition these days. He goes through the motion of grazing, but ends up spitting out most of the grass.
Doug's Legacy, the horse that brought John and Maggie together, has been Timer's pal for the last year or so. The gray gelding also has teeth issues, so the two are now kept together to get their special meals with the least amount of fuss.
While he still has some of that fire and feistiness he was known for in his racing days, Time Alert has always had a gentle soul. "That beautiful face, that big blaze and the big brown spot on his nose," Aitchison recalls fondly. "He would put that soft nose up to you and breathe on you, and you'd want to press that brown spot." Maggie calls that spot his 'go button'.
"He astounds people at how friendly he is, how easy going he is," added John. "He is quite the ham and loves the attention. He's a great spokesperson for the breed and for the industry."
MARCH BUCKET FUND!!   8 MINIS NEED TRANSPORT to safety ! 2 DWARFS, A PREGNANT MARE, her SWEETHEART, AND 4 BABIES! click here for their story!
WE ONLY NEED $320 more to set them free to California and new homes!
Click here to donate!  THANK YOU!!!
HORSE AND MAN is a blog in growth... if you like this, please pass it around!